Search sheldonbrown.com and sheldonbrown.org
The Golden Age of 3 Speeds
Servicing English 3-speeds
Wrenches
Identification
Raleigh front hubs
How to tell the Raleighs from the others
Sturmey-Archer Internal-gear Hubs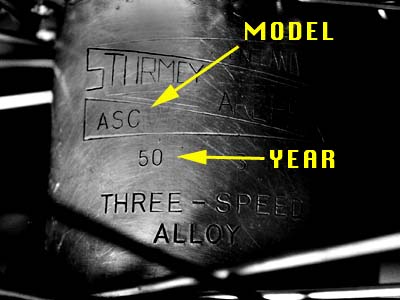 Sturmey-Archer Models:
Brakes
Raleigh Brakes
"Phillips-type" brakes
Tires ("Tyres")
Brands
Raleigh, Rudge & Humber

These were the flagship brands of Raleigh Industries, and are of equal quality. 26" wheel models would normally come with Raleigh-pattern rims and Brooks leather saddles. Having separate lines allowed Raleigh to offer exclusive territories to local dealers without writing off other dealers in the same area. The frames on these bikes were generally identical, but each had special distinctive cosmetic features, particularly in the fork construction, and the pattern of the cutouts in the chainwheel:

Raleigh

models featured the "dimpled fork", a fork with a tubular crown and chrome-plated buttons on the ends of the crown. The Raleigh logo depicts Sir Walter Raleigh laying his cape down in the mud so that Queen Elizabeth won't soil her shoes. Other Raleigh logos represent a heron, for reasons that are unclear.

Rudge

models have a sloping fork crown with a removable chrome cap. The Rudge logo is a human hand, and the chainwheels are cut out in this pattern (you can see this in my article on Cottered Cranks.)

Rudge had some connection with Whitworth, and some Rudge parts are labeled "Rudge-Whitworth". See my glossary entry on "Whitworth."

Humber

models often feature a truly bizarre fork design, where upper part of the each fork "blade" consists of two small diameter tubes, one in front of the other, joining halfway down the "blade".

Humber chainwheels have cutouts representing 5 little people running around in a circle, with their feet outward, and their heads joining at the middle.

Humber was also an automobile manufacturer, but I believe the bicycle division was spun off early in the century. The Humber is a major English river.

Armstrong

B.S.A.

B.S.A. (Birmingham Small Arms) was an important independent manufacturer until the bicycle division was sold to Raleigh in 1957. Originally an armaments company, its logo represents 3 military rifles stacked in a tripod.

B.S.A. was the originator of the threadings and frame dimensions that later became B.S.C. and more recently ISO.

British Cycle Corporation

A conglomerate, owner of Phillips, Hercules, Norman and Sun, a division of TI. The B.C.C. brands were merged with Raleigh in 1960 when TI bought Raleigh.

C.W.S.-Silver Dawn

Dawes

An independent manufacturer, still in business.

Derby

A large multinational, now based in Kent, Washington, Derby bought Raleigh Industries from TI in 1987. Derby also owns Raleigh USA (a separate company from Raleigh Industries), Kalkhoff, Nishiki, Univega, Haro, Cycle Pro and Diamondback.
Dunelt was a second-rank brand. Many Dunelts feature a fork similar to the Raleigh dimpled fork, only with a flattened top.

Elswick/Hopper

An independent manufacturer. See My Elswick Page.

Fleetwing

Gazelle

A Raleigh brand introduced in 1938. This became the primary name of Raleigh's subsidiary in the Netherlands.

Glider

Hercules

A division of B.C.C. until merged with Raleigh as part of the TI takeover in 1960, Hercules was a major competitor of Raleigh, with a strong sporting image. Hercules sponsored popular racers, most particularly Ken Joy and Eileen Sheridan. Hercules made its own 3-speed hubs, which were pretty-much identical to the older Sturmey-Archer AW, though some parts, notably the right ball cup, were not interchangeable.. Hercules hubs continued to use threaded drivers long after Sturmey-Archer abandoned them.

Raleigh-built "AMF-Hercules" models are fairly common. They were distributed by AMF (American Machine & Foundry.)

Huffy

Although primarily known for low-end department store bikes, Huffy sold Raleigh-built bikes under its own name in the 1960s. Huffy was also the first U.S. importer of Moulton bicycles.

New Hudson

A division of B.S.A., until absorbed by Raleigh in 1957

Norman

A division of B.C.C. until merged with Raleigh as part of the TI takeover in 1960. Normans featured decorative chainrings where the spokes were in the form of Norman warriors.

Phillips

A division of B.C.C., Phillips, based in Birmingham, was the second-largest British bike maker until merged with Raleigh as part of the TI takeover in 1960. Raleigh-made Phillips models are near the bottom of the quality range.

Birmingham Phillipses often featured a chainwheel with the word "Phillips" prominently featured in the cutouts.

Robin Hood

A mid-level Raleigh brand, successor to Gazelle. Read about My Old Robin Hood.

Royal Scot

Sun

Sunbeam

A division of B.S.A., until absorbed by Raleigh in 1957. Early Sunbeam bicycles had a unique oil-bath chain case which also lubricated the rear hub and bottom bracket.

Three Spires

Tube Investments (TI)

This large conglomerate, parent company to British Cycle Corporation, bought Raleigh Industries in 1960 and merged Raleigh with the B.C.C. brands Phillips, Hercules, Norman and Sun.

Triumph

Triumph was a second-rank brand. Raleigh bought the bicycle rights to the name from the Triumph motorcycle company in 1954. There's no connection to Triumph automobiles.
These Are Real Bikes!
Links