"Touring" is a slippery word, and means different things to different people. This can cause miscommunication, so the word should be used with caution.

To non-cyclists, or casual cyclists, "touring" may mean riding 8 miles on a rented cruiser at a beach resort, or a fund-raising "thon" ride, or any type of riding where the principal objective is leisurely enjoyment of scenery and fresh air.

In the sense more generally accepted in cycling circles, however, a "tour" is a multi-day ride, which is not a competition or a timed event.

See also touring bicycle.
A type of under-the-saddle bag popular in the British Isles. It attaches to special loops at the rear of the saddle, and also has a strap which wraps around the seatpost. Sometimes there is a special bracket instead to attach the bag to the saddle. This is necessary when the saddle does not have loops or has flimsy plastic loops, but it also allows the bag to be removed and replaced more quickly, and can keep a large bag up off the rear tire.

Traditional British touring bags are roughly cylindrical (oriented crossways-no attempt is made to make them aerodynamic) though they add little drag, because they are behind the cyclist. They come in a range of sizes, usually with a large main compartment and a small pocket at each end. They also feature metal rings on top of the flap to which the rider can strap a rolled-up rain cape, in case the rain stops.

Major brands are Brooks, Carradice, Karrimor and Zimbale. The better-quality bags are made of heavy black canvas, with gray"chrome" leather straps and corner reinforcements.

Most Brooks saddles have strong, steel bag loops. It may be necessary to rotate the springs of a sprung saddle so the straps will feed through easily past the coils. Loops can eventually cut through the straps, though some have smooth metal inserts. Filing the loops smooth can help. Carry a pair of extra toe straps to use as replacement straps, just in case.

Pop quiz: what's wrong with this picture?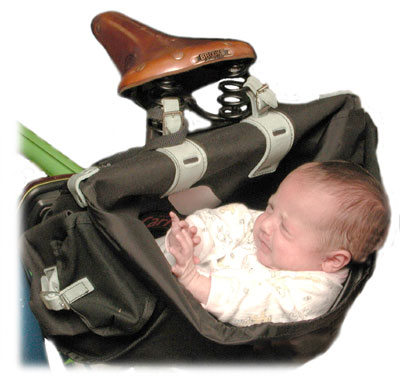 Answer: the straps are threaded onto the springs, rather than through the bag loops -- but also, for the greatest stability, the buckles should be inside the bag, allowing it to be snugged up against the bag loops.
Still, these bags are not ideal for cyclists who like to stand up and thrash their bicycles from side to side while climbing, due to sway. For the cyclist with a smooth riding style, these bags offer a good option for carrying a sizeable load on a bicycle which lacks pannier racks -- or to provide extra capacity.
This type of bag is currently enjoying a resurgence of popularity.
In case you might possibly have other questions about the picture, a further explanation is available.
A touring bicycle is designed for comfort, durability, efficiency and, in most cases, load-carrying capacity. Touring bicycles fall into two major groupings:
Loaded-touring bicycles, the classic "touring" bicycle is intended for self-supported travel, including camping and, in some cases, cooking equipment. A loaded-touring bicycle has:
A well-equipped loaded-touring bicycle will usually have:
Full fenders.
Front pannier rack (usually low-rider style.)
Rear pannier rack.
Lighting system (usually generator-powered.)
3 or 4 bottle cages, for water and cooking fuel.
Increasingly, loaded touring is being done on modified mountain bikes, which share many characteristics with loaded tourers.
Some riders prefer to use trailers instead of panniers to carry their camping equipment.
Light-touring, or "credit-card" touring bicycles are intended for inn-to-inn tours, randonnées, or organized tours with sag-wagon service, in which the rider will carry perhaps a large touring bag or handlebar bag. A light-touring bicycle may be a modified road-racing bicycle, or a bicycle made for the purpose. It will usually have:
Conservative road-racing geometry.
A triple chainwheel crankset.
A close- or medium-ratio cluster.
Medium (25-28 mm) width tires.
Clip-on aero bars.
Clipless pedals.
"Sport-touring" bicycles are not, strictly speaking, touring bicycles at all. This is a term normally used to refer to the general-purpose "ten-speeds" (later 12-speeds) of the '70's and early '80's. These bikes were marketed as general purpose machines, and millions were sold. Millions of them are now rusting away in the back of the garages of middle America. These bicycles are characterized by:
630 mm (27 inch) wheels.
Double chainwheels, usually 52/42 or 52/39.
5 speed freewheels, usually 14-28 teeth.
Since these bicycles were most often sold to people for whom drop handlebars were unsuited, many of them added features to try to make the bicycle more appealing to the casual cyclist, without losing the "racer" look:

Note: the term "sport touring" is sometimes used to refer to a "light-touring" bike by cyclists too young to remember the 10-speed era.