Search sheldonbrown.com and sheldonbrown.org
Sheldon Brown's Raleigh Twenty Bicycle Page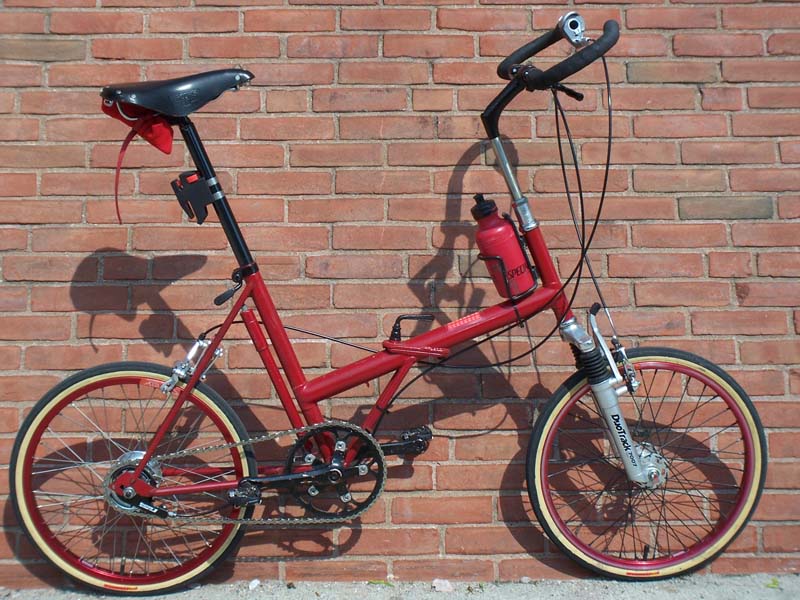 Sheldon Brown's 8-speed Raleigh Twenty
The Raleigh Twenty
In the '60s,
Moulton
bicycles were hot in England, and Raleigh wanted to get in on the action. One of their answers to the Moulton was the Raleigh Twenty, also known as the Raleigh Shopper, and sold under some of Raleigh's other captive brand names in England.
The Twenty was not nearly as sophisticated a design as the Moulton, but there was a visual resemblance. While the Twenty lacked the Moulton's full suspension, it was inexpensive and rugged and fun to ride. The 20 inch wheels were easy to get tires for, and the tires held up quite well. The Twenty superficially resembles many inexpensive European 20 inch folders of the era, but the frame and hinge are much more solid than most of these.
A stock Raleigh Twenty offers performance comparable to that of a 26 inch wheel 3-speed "sports" bike, but, due to their robust, well designed frames, they lend themselves to being "hopped up" in performance by upgrading components. With suitable equipment, they can approach the performance of a Bike Friday at a much lower price.


Bottom Bracket
The bottom bracket threading on Raleigh Twentys is Raleigh's proprietary 26 tpi size. The shells are also rather wider than standard, approximately 76 mm. If you wish to upgrade a Raleigh Twenty for modern cotterless cranks, you have 3 options:
Have the bottom bracket shell re-threaded to take an ISO standard 24 tpi bottom bracket. This works, but the threads are not terribly strong, because the diameter is the same, so there will be some missing threads. (The shells are not thick enough to tap out to the larger Italian size.)
Re-use the original 26 tpi cups with a long cotterless axle. "7" series bottom bracket axles are made to work with 73 mm "oversized" shells, and some of them can be made to work in the Raleigh cups.
Use a cartridge bottom bracket with Phil Wood 26 tpi retaining rings. I'm told that it is possible to use Shimano UN72 bottom-bracket cartridges with the Phil Wood rings, if a Phil Wood bottom bracket is beyond your budget.

If you order a Phil bottom bracket for a Twenty, you should be careful to order a long-barrel bracket (made for a 71-75 mm BB shell), or tightening down the mounting rings may not be possible.
Brakes
The 406 mm wheel models came with loooooong-reach Weinmann sidepull brake calipers; the 451 mm wheel models used Raleigh steel calipers like those used on full-sized Raleigh 3-speeds.
Handlebars
There are two standard handlebar setups for Twentys, both steel:
A one-piece bar/stem unit, with bars similar to "all-rounders." These are reasonably light and stiff, and there is no great need to replace them unless you want to go to a totally different style of bar.
A tall 3-speed type stem, with a sort of "high rise" bar. These offer fore-and-aft adjustability, but are heavier and less secure than the one-piece type.
Both types of stem are secured by an "L" handled binder at the top of the fork steerer, rather than using a traditional expander/wedge system.
The stems have a stiff wire loop running out of the bottom, which attaches to the brake center bolt, and prevents the stem from being set too high for safety.


Wheels
The stock wheels on U.S. models are either 406 mm (20 x 1.75) or 451 mm (20 x 1 3/8). Generally the folding models came with the 406 size, which is also the size used for BMX bikes. The 451 mm size is somewhat scarcer. Good rims and tires are available in both sizes, though the selection is much larger for the more common 406 mm size.
The stock steel rims are very heavy and don't provide very good braking. The most valuable upgrade to these bikes is to replace the rims with lightweight aluminum ones, and to install better tires.
Frame
Unlike many similar-looking 20" wheel folding bikes, the Raleigh Twenty has a nice stiff frame, and can handle quite well even with heavy riders at high speeds.
The hinge is very sturdy and trustworthy. In fact, the bike can be ridden with without the hing "L" bolt being installed!
Twentys are designed to take a 1 1/8" seat post, and come with a heavy steel one, which may not be long enough for taller riders. Since I'm long-legged, I used to have to extend the stock seatpost by attaching a smaller seatpost to the top of it, but now, thanks to mountain bikes, and "oversized" designs, suitable modern aluminum seatposts are available from stock for a reasonable price, in the 28.6 mm diameter.
Fork
The stock fork is of mediocre quality, but serviceable. I improved the handlning of my fixed-gear Twenty had a Haro BMX fork with an extended steerer.
Note that if you replace the fork, you'll also need to replace the handlebar stem, because the stock stems have no expander/wedge to secure them to a standard fork.
The skinny 120 psi Continental tires on my fixed-gear twenty were too jarring in the small wheel size, and, though this bike was quite fast for a folder, I found myself rarely riding it, due to the harsh, uncomfortable ride. I recently solved that problem by installing an SR suspension fork. It made all the difference, and since then this bike has been getting regular use. This fork also features cantilever braze ons, enabling me to install a Shimano V-Brake.
This fork has a long, threadless steerer, but not long enough to use with a threadless headset/stem on a Twenty. Fortunately, the steerer is steel, and of standard wall thickness, so I was able to thread it. With a threaded headset, there's actually a bit more than enough room, but rather than cut it down, I installed a spacer between the locknut and the adjustable race.
The stock Raleigh Twenty headset uses the same bottom section as other Nottingham 3-speeds, with 25 5/32" balls, but the upper headset uses a nylon bushing. The extra friction of this bushing, plus the geometry of the stock fork generally make it impossible to ride a stock Twenty no-hands.
If you replace the fork, you can use a standard ISO headset, because the head tube is standard.


Some of my Raleigh Twentys, in approximate order of acquisition:
The First of Many

The first of many Raleigh 20s I've owned; I bought this one used in the early '70s, and did many modifications to it over the years. In this photo, it was still fairly stock, except that I'd converted the 3-speed hub to 5-speeds, extended the seatpost, and installed Lyotard platform pedals and a Brooks B66 saddle.
For a while it had BMX tires on it, and I did quite a lot of off-road riding on this bike, before real mountain bikes became available. It used to really blow peoples minds to meet a cyclist out on a hiking trail in the woods...most people at the time assumed that such trails were impassible to bicycles.
Later in its life, it acquired aluminum rims, Cinelli handlebars and stem, a Campagnolo Nuovo Record crank set, Phil Wood bottom bracket, and other goodies.
One nifty use for such a bike is hitch-hiking. Back when I was a starving hippie, I once used this bike to visit friends on Cape Cod, during the winter off season. I hopped on the bike at my commune in Allston, (an outlying section of Boston) and rode in, perhaps 6-8 miles to the main north-south highway that runs through Boston, and up an on-ramp. I then folded the bike and stuck out my thumb.
A hitch-hiker with a crumpled up bike next to him looks less threatening than a normal hitch-hiker, and I got a ride almost immediately, all the way down to route 6, about 10 miles from my destination. There I was, on a dark November night, on a deserted 2-lane in Cape Cod, with nobody going by. If I'd been purely hitch-hiking, I'd've been S.O.L., but since I had my trusty Twenty, I just unfolded it, turned on my Elite headlight and had a pleasant ride to my friend's house.
Later, I lent this bike to one of my partners in the Bicycle Repair Collective (now the Broadway Bicycle School) so he could comfortably hitch back to his home in Minnesota at Christmas time. Worked for him, too!
In the early '80s, after I'd married and my daughter Tova was born, this bike acquired a baby seat. I chose this bike for baby seat use partly due to its sturdiness, partly due to the step-through frame, and partly because it was adjustable so that either Harriet or I could comfortably ride it.
Harriet used this bike for her 16 mile commute for quite a while...it was a bit of a "Q-ship" Harriet had a lot of fun blowing off posers on thousand-dollar bikes. When you're a poser with a thousand-dollar bike, and you pass a middle-aged woman on a small-wheel folding bike with a baby seat on it, there's precious little glory, (especially as the only chance these worthies had to pass her was while she was waiting for a red light to change.) On the other hand, once the light changes, and the middle-aged woman on a small-wheel-folder-with-a-baby-seat catches and passes you, you know you've really been passed!

1970's Raleigh 20 (non-folding)
S-A 5-speed hotrod, aluminum rims and crankset, wild-looking Uni-disc wheel covers, front and rear, Mitsuboshi Comp Pool tires.
This one doesn't have as many lightweight goodies on it as some of mine have, but it's pretty fast on the flats, with the "æro" wheel covers, which have psychedelic dayglo spirals on them...really gotta take a picture of this one sometime.
Riding this downhill at speed shows why people don't use disc wheels in front! With the small wheels, it's bearable, but the handling is a bit dicy...as you start to turn even a little bit, the disc tries to make you turn farther, so it takes considerable attention to keep this bike going straight at high speeds.


1970's Raleigh 20 (folding) Fixed Gear
One of my many fixed-gear bikes. This has a modified Haro BMX fork with an extended steerer, Zoom Brahma bars, Araya 7x aluminum rims with 28 mm Continental Grand Prix tires, Sugino cranks, Normandy large-flange hubs, Dia Compe BMX brake.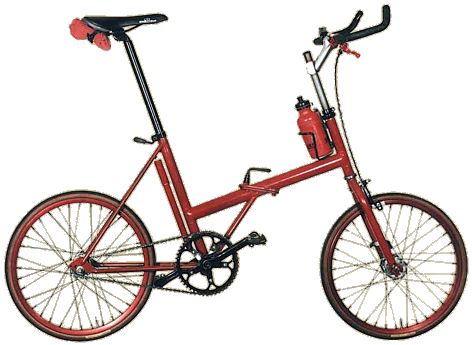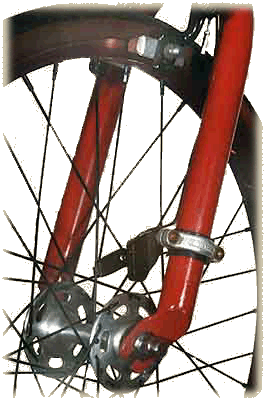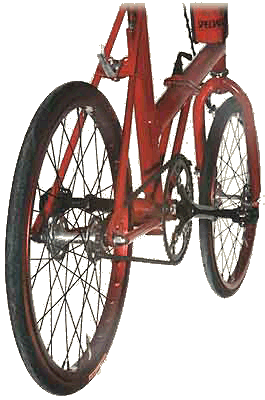 1970's Raleigh 20 (folding) In Progress
3-speed hotrod, drop bars, alloy wheels, work in progress. This is a comparatively recent acquisition, and I haven't gotten 'round to doing any serious modifications to this, aside from the drop handlebars...still waiting for inspiration.
John Allen's Twenty
My good friend John Allen caught the Twenty virus from me, and in 1979 I managed to find him a "fixer-upper" twenty which he has put to excellent use. He has a Web page about his own Raleigh Twenty
Tony Hadland
Tony Hadland's article on the history of Raleigh features historical info on the Raleigh Twenty family.


If you would like to make a link or bookmark to this page, the URL is:
https://sheldonbrown.com/org/raleigh-twenty.html

Last Updated: by Harriet Fell