Sheldon Brown's Journal
July-August 2004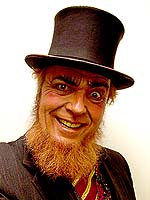 July 2, 2004
House Concert: Louis Killen in Concord

Harriet and I went out to a very nice house concert organized by the FSSGB. He sang a lot of old favorites, and also some new material. It was nice to see him in such an intimate venue. I have fond memories of sharing the stage with him in the 1996 Midsummer Revels.
July 3, 2004
A masterful piece of propoganda film making. George W. Bush and his gang are even worse than I had previously thought.

A particular masterstroke was his handling of September 11, which featured several minutes of a togally black screen, but with sound effects that let everybody in the theatre provide their own visuals, very effective.
July 4, 2004
32 mile CRW with Harriet on the Picchio fixed-gear tandem, Lexington and points northwest. Farthest we've gone on this bike, and first time riding it with a group. It is definitely a rocket ship, but doesn't mix well with singles...we have to go too fast up the hills, and tend to drop folks.

eBook: FreeholdMichael Z. Williamson 2004

This is a right-libertarian "utopia", with the U.N. cast as the Bad Guys. Not recommended.
July 5, 2004
A tragic conflict between a young American woman and an Iranian family, when her house is erroneously auctioned off to the Iranians, and neither side is willing to compromise or to yield. Ben Kingsley is great as the Iranian paterfamilias.
July 6, 2004
Film: (DVD) BasquiatJulian Schnabel 1996

Biopic of a New York graffiti writer who becomes briefly successful as a "serious" artist. I didn't much like this film.
July 10, 2004
I just can't get enough of Benjamin Franklin, one of the greatest men of the 18th century. This book focusses mostly on his political development, and I found it fascinating.
July 11, 2004
Harriet and I rode out to Dover on the Picchio fixed-gear tandem. Really having a lot of fun on this bike since I finally got it dialed in.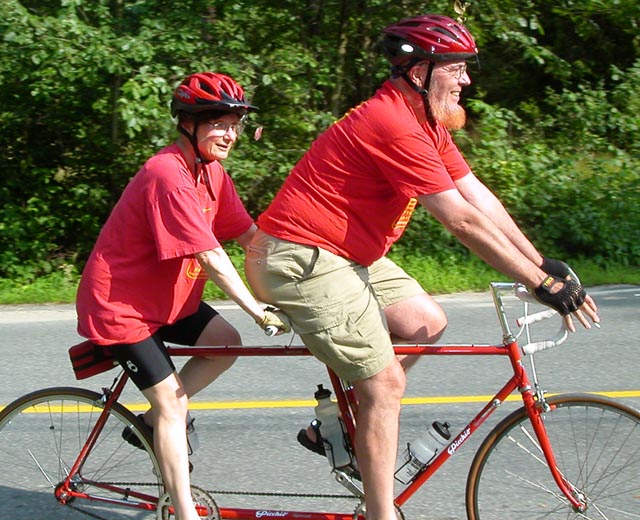 July 14, 2004
My 60th birthday
July 15, 2004
Alex Beam column

I was interviewed by Alex Beam of the Boston Globe about the Tour de France. Today the column came out, lots of folks congratulated me. Here it is, reproduced without permission:

Comprenez vous le Tour de France?
By Alex Beam, Globe Columnist | July 15, 2004

Last summer, my neighbor told me that he had been watching live coverage of the Tour de France on the Outdoor Life Network. Neat! I immediately tuned in and saw ... nothing.

It was like watching the legendary Mad magazine "sport" 43-man squamish, played underwater. Yes, I enjoyed seeing these 170-odd fellows in pastel jerseys pedal through the gorgeous French countryside. And yes, I know how to ride a bike, and I always make a little joke about Lance Armstrong at my local Post Office. (They seem to have no idea who he is.) But the Tour is, like, geek to me.

Two nights ago, I invited Sheldon Brown, a veteran cycling journalist who uses the Internet handle "CaptBike" at his website sheldonbrown.com/org, to watch Stage Nine of the Tour with me. Brown also runs the successful HarrisCyclery.com website, and he has played King Paramount in the seldom-produced Gilbert & Sullivan business satire, "Utopia, Ltd." So he understands everything.

Before switching on the television -- he had taped OLN's edited broadcast that morning -- Brown asked to deliver some prepared remarks. "The Tour de France is not a sporting event, it is a series of sporting events," he said. "It is not like a baseball game, it is like a pennant race."

There are several separate races taking place during the Tour. There's the race for the yellow jersey -- like chasing the batting title in baseball -- which Armstrong has won five years in a row. A Frenchman named Thomas Voeckler is currently wearing the yellow jersey, meaning he has the best overall time so far. But the jersey will probably change backs several times before the racers finish under the Arc de Triomphe in Paris July 25.

There is simultaneously a race for best sprinter on the Tour (green jersey); best climber (red polka-dot jersey); best young cyclist (white jersey); and for fastest team. And each of the 20 race stages is itself a hotly contested race-within-a-race. "Most of them are won by somebody you've never heard of, and who you will never hear of again," Brown explained. "But that will be the biggest event in his life. It will be the headline in that man's obituary: `Winner of Stage Nine of the 2004 Tour de France."

Now for the question and answer period:

1. Please define: "peloton"; "drafting"; "breakaway"; "time trial." The peloton is the main pack of riders, sometimes stretching out a hundred yards or more. Most of them benefit from drafting, meaning they are cycling in the slipstream of the riders ahead of them, and pedaling less hard. The first and last riders in the peloton get the same time at the finish line.

I asked Brown why small groups of riders "attack," or break away from the pack. "Because it's a race," he answered. Duh.

In the three individual Tour time trials, the riders start at staggered, set intervals and are not allowed to draft. The trials are called "the races of truth." Armstrong does well in the time trials, because he is a very fast rider. Double duh.

2. What happens if a rider gets a flat tire? He gets a new bike, usually in a minute or less. Ditto in a crash situation, if the rider is uninjured.

3. When do the riders eat? In a long stage, they are handed special sacks of food, called musettes, in a designated "food zone."

4. Can you go to the bathroom on a bike traveling 25 miles per hour? Yes, but this isn't something you'll see on the Outdoor Life Network. Plus: don't try this at home.

5. When should you start paying attention? Next Tuesday. Starting then, two time trials and the Alps stand between the elite riders and the yellow jersey.

6. Why do the French hate Lance Armstrong? Because he is an American, and he beats them at their own game.

So what was Stage Nine like? Beautiful, and boring, until the end. Two riders, Filippo Simeoni and Inigo Landaluze, had staged a dramatic breakaway for 70 long miles, at times leading the pack by as many as 10 minutes. But right at the finish line in Gueret, the peloton caught up with them. So Brown and I had watched more than two hours' worth of bike racing to see a 172-way tie.

"Yes, it is confusing," Brown allowed. "But baseball has the infield fly rule." Touche.
July 16, 2004
TV appearance, NECN

Appeared on New England Cable News, on a 3 person panel talking about the Tour. Others were Brian MacDonald from Redbones , and Lorenzo de Monaco from BikeRiderstours.com
July 17, 2004
Went on a 64 mile CRW ride out and around Mt. Wachusett, very pleasant ride on the Brown
July 24, 2004
eBook: (DVD) The House of the KzintiJerry Pournelle, Dean Ing, S.M. Stirling

This is part of the Man-Kzin Wars series, a couple of novellas and a story or two, which it turns out I had previously read. One of the novels is a bit of an homage to Casablanca. I enjoyed reading these stories a second time, I'm very fond of this series.
July 28, 2004
George is back from Bristol, good to have him home again.
July 31, 2004
Harriet's birthday! I built her a new wheel, with one of the Shimano Nexus hub generators and a nice rim.
August 3, 2004
I enjoyed the book, and the film did a good job of following it. Hollywood couldn't resist the temptation to show a big battle scene (the Crater at Petersburg) which was not a major part of the book. Been a while since I read it, so I'm not sure what they had to leave out. Fine performances however, and I would recommend this film.
August 6, 2004
I'm not completely sure why, but I don't ever recall enjoying cycling as much as I have been this summer. Most days I've been taking roundabout commutes, adding several miles in each direction.

Part of it has to be the weight loss, part of it, I suspect is my iPod, which makes the experience much more enjoyable.
August 11, 2004
Film: (DVD) Arsenal Dovzenko, 1928

Early Soviet epic of the counterrevolution in Kiev after WW1. Two Russian soldiers are taken hostage by Chechen rebels, who then don't quite know what to do with them. Very good film.
August 13, 2004
August 14, 2004
August 15, 2004
This is the latest in Harry Turtledove's massive "Great War" alternate history series that began with the Confederate victory in How Few Remain This book follows American Empire: The Victorioius Opposition and takes us into the alternate World War 2.

You shouldn't read this unless you've read the previous novels in the series, but if you have, you won't want to miss this one.
August 17, 2004
August 18, 2004
August 19, 2004
Partially filmed in Padstow, Cornwall, this charming comedy features the Lady of the Manor left a penniless widown by her wastrel husband's suicide. She never expected to have to work for a living, and has devoted her life to gardening. With the help from some other locals, she turns her green thumb to a different type of gardening, marijuana, to stave off the banker who wants to foreclose on her manse...
August 23, 2004
Film: (DVD) Psycho Alfred Hitchcock

A masterpiece from the Master. This film broke a lot of rules, most especially by killing off the female lead, Janet Leigh quite early into the film. This was such a shocker that Hitchcock insisted that theatres refuse admittance to the film once it started.

I suspect that this was the first impetus for a major change in moviegoing: I recall the usual moviegoing routine back in the '50s was "lets go to the movies" without any regard to the schedule. You'd just arrive at the theatre at whatever time you found convenient, sit through whichever feature was in progress, then watch the other feature and the first part of the one you walked in on. "This is where we came in" was the cue to leave, unless the film was unusually good.

Sometime after the '50s, this changed, and people started checking schedules so they could arrive in time for the start of the film. Psycho may have been the film that started this trend.
August 23, 2004
I don't know how I missed seeing this film earlier, it's legendary as one of the great late westerns. Leonard Cohen's soundtrack adds to the atmosphere. Highly recommended.
August 25, 2004
Certainly one of Hitchcock's masterpieces, Cary Grant and Eva Marie Saint, crop dusters and Mt. Rushmore...
August 27, 2004
A so-so monster alien flick. Looks like the creature shop had a lot of fun making this film.
August 28, 2004
Drove out to Marblehead with Harriet and George, to watch the Firemen's Muster. Haven't been to one of these since I was a kid. We brought bikes, parked in Beach Bluff and cycled to the field for the Muster.

This is a great traditional New England event, featuring a parade of antique hand-pumped fire engines, and a very enthusiastic squirting contest. Marblehead has two teams, the Okos and the Gerrys.

Afterward, we rode out West Shore drive to Grace Oliver's Beach for a swim. The water was chillier than we had expected, so we didn't stay in long, but it was quite refreshing anyway, as the day was very hot. Aubrey Hebburn and Cary Grant in a rather dated '50s film about models and the fashion industry. Hepburn was supposed to be a sort of "ugly duckling" but she was incapable of ugly...
August , 2004
Film: (DVD) TITLE

Back to:



Films reviewed on this page:
Music:
Date
Performers
Works
May 2, 2004
Aiofe O'Donovan, Seamus Connoly, Halali
"Rapper, Reels & Revelry"
May 1, 2004
B.S.O., Gianluca Cascioli, Jahja Ling
Mozart, Mahler
April 10, 2004
M.I.T.G.A.S.P
Gilbert & Sullivan: Thespis
April 3, 2004
B.S.O., Grant Llewellen
Vaughan Williams, Musgrave, Walton
January 17, 2004
B.S.O., James Levine
Mozart, Carter, Dvorak
December 10, 2003
Australian Opera (DVD)
La Bohème
November 13, 2003
Kirov Ballet, St. Petersburg
Chopin, Rimsky-Korsakov, Stravinsky
October 4, 2003
B.S.O., Hans Graf, Claudio Bohóquez
Tchaikovsky & Shostakovich
October 4, 2003
B.S.O., Bernard Haitink, Dubravka Tomsic
Beethoven
March 8, 2003
M.I.T.G.A.S.P
Bizet: Carmen
March 8, 2003
B.S.O., Bernard Haitink
Beethoven, Harbison
March 7, 2003
Arlo Guthrie
Northeastern University
February 21-March 1, 2003
Gilbert & Sullivan: Patience
Sudbury Savoyards
January 18, 2003
B.S.O., Ton Koopman, Andreas Scholl
Bach, Haydn
December 7, 2002
B.S.O., Marek Janowski
Bartok, Strauss
November 29, 2002
New York Philharmonic, Christoph von Dohnanyi, Pierre Laurent-Aimard
Janacek: Cappriccio; R.Strauss: Burleske; Brahms: Sym. #2
November 2, 2002
B.S.O., Marek Janowski
Bartok, Strauss
September 22, 2002
Boston Folk Festival
Barachois, Bill Staines, Cheryl Wheeler, Richard Thompson
July 21, 2002
London Philharmonic, Rostropovich
Shostakovich, Lady MacBeth of Mtsensk
July 3, 2002
Stan Rogers Folk Festival
Oysterband, Fairport Convention, others.
May 3, 2002
The Australian Opera
Wagner, Die Meistersinger
April 18, 2002
B.S.O., Seiji Ozawa
Mahler, Sym. # 9
April 13, 2002
M.I.T.G.a.S.P.
Gilbert & Sullivan, The Gondoliers
March 7, 2002
B.S.O., Hans Graf, M. Piccinini, A.Häfliger
Colgrass, Schubert
February 21, 2002
B.S.O., James Levine
Dvorak, Wuoronen, Mozart, Ligeti,Schumann
January 10, 2002
B.S.O., Bernard Haitink
Bruckner: Symphony #7
December 9, 2001
Brandeis University Symphony Orchestra
Beethoven: Piano Concerto #3; Dvorak: Symphony #6
December 8, 2001
Brandeis University Early Music Society
Various works
November 17, 2001
M.I.T.G.a.S.P.
Gilbert & Sullivan, H.M.S. Pinafore
November 3, 2001
B.S.O., Federico Cortese
Ives: Ragtime Dances, Mozart Pf Conc #9 k271, Kurtäg: Grabstein für Stephan; Schubert, Sym. #4
Novembr 2, 2001
Blue Man Group, Seiji Ozawa
Brahms: Symphony #1
October 6, 2001
B.S.O., Seiji Ozawa
Brahms: Symphony #1
May 3-6, 2001
M.I.Tl G & S Players
Gilbert & Sullivan: The Grand Duke
April 13, 2001
Harvard-Radcliffe G & S
Gilbert & Sullivan: Utopia, Limited
March 4, 2001
Newton North High School Chorus and Orchestra
Haydn: Missa in Tempore Belli; Symphony #49 "La Pasione"
March 3, 2001
B.S.O., David Robertson
Janácek Sinfonietta,
February 18, 2001
Theatre de Chatelet (DVD)
Janácek, The Cunning Little Vixen
February 4, 2001
M.I.T.G.a.S.P.
Rowe & Sullivan, The Zoo
February 3, 2001
B.S.O., James Levine
Mahler Symphony #3
February 3, 2001
George and his band at Harvey Finstein School of Music
December 27, 2000
The Christmas Revels, Cambridge
Appalchian/African-American Revels
December 23, 2000
San Carlo Opera (DVD)
Wagner, Tannhäuser
November 18, 2000
M.I.T.G.a.S.P.
Gilbert & Sullivan, The Sorceror
November 16, 2000
Harvestfest, Newton North High School
November 2, 2000
B.S.O., Christoph Eschenbach
Mozart: Piano Concerto #23; Mahler Symphony #5
October 24, 2000
Leon Rosselson
Johnny D's
October 7, 2000
The Savoy-Aires
Gilbert & Sullivan: The Mikado
June 18, 2000
George and his band at Harvey Finstein School of Music
May 21, 2000
Small Ensemble Concert--Newton North
April 29, 2000
Spring Revels
April 22, 2000
B.S.O., André Previn, Pamela Frank
Previn: Diversions; Barber: Violin Concerto; Mozart: Symphony #39
March 10, 2000
Revels, Inc/Shakespeare & Co.
The Mysteries
February 26, 2000
B.S.O.,Seiji Ozawa, Christine Goerke, Ian Bostridge, Thomas Quasthoff
Britten: War Requiem
February 19, 2000
B.S.O., Bernard Haitink
Mahler: Symphony #7
February 12, 2000
George and his band at Harvey Finstein School of Music
January 29, 2000
B.S.O., Sir Simon Rattle
Peter Donohoe, Piano
Dvorák: The Golden Spinning Wheel,
Bartók: Piano Concerto #1, Brahms: Symphony #2
January 8, 2000
George on Trombone
N.E. Regional Senior District Festival
December 19, 1999
The Christmas Revels, Cambridge
Italian Renaissance Revels
December 12, 1999
Pierre Boulez, Met Opera (video)
Wagner: Siegfried
November 19, 1999
Matapat, Lexington
November 18, 1999
Harvestfest, Newton North High School
St. Sæns Danse Macabre
November 7, 1999
M.I.T.G.a.S.P.
Gilbert & Sullivan, Iolanthe
November 4, 1999
George and his band at Ryles, Cambridge
October 2, 1999
B.S.O., Seiji Ozawa
Florence Quivar, Mezzo; Paula Delligatti, Sop.
Mahler, Symphony #2
September 29, 1999
B.S.O., Seiji Ozawa,
Hildegarde Behrens, Soprano
Wagner: Tannhäuser, Götterdämmerung excerpts;
Strauss: Electra excerpt.
August 14, 1999
M.I.T.G.a.S.P.
Gilbert & Sullivan, Crichton
July 24, 1999
David Mallett
June 19, 1999
The Publick Theatre
Gilbert & Sullivan The Yeomen of the Guard
April 13, 1999
Harvey Finstein School of Music student groups
George and Tova at Watch City Brewery
March 7, 1999
Newton North High School Chorus and Orchestra
Mozart: Requiem, Symphony #38 ("Prague").
March 5, 1999
Harvey Finstein School of Music student groups
George and Tova in Jazz recital at Newton Congregational Church.
March 4, 1999
Newton North High School various groups.
February 6, 1999
B.S.O.,Seiji Ozawa,
Jacques Zoon (flute)
Debussy: Pelléas et Mélisande "Symphony"
Mozart: Flute Concerto #1 in G, K.313
Stravinsky: Le Sacre du Printemps.
January 30, 1999
B.S.O., Robert Spano,
Andreas Haefliger (piano)
Lindberg: Arena
Beethoven: Piano Concerto #2
Sibelius: The Swan of Tuonela, Symphony #3
January 16, 1999
B.S.O., Sir Simon Rattle,
Dawn Upshaw (sop.)
Knussen Flourish with Fireworks
Weir Natural History
Mahler Symphony #4
Schumann Piano Concerto
December 23, 1998
The Christmas Revels, Sanders Theatre, Cambridge
December 12, 1998
Caroling with Nym Cooke, Hardwick, Mass.
November 28, 1998
B.S.O., Roberto Abbado,
Lief Ove Andsnes (piano)
Mahler Symphony #1
Schumann Piano Concerto
November 8, 1998
M.I.T.G.a.S.P.
Gilbert & Sullivan, The Mikado

Plays:
November 29, 2002
Lorraine Bracco
The Graduate
November 23, 2001
Helen Mirren, Ian McKelln
The Dance of Death-August Strindberg
September 30, 2000
Tova/Black Box Theatre, Cornell University
The Maids-Jean Genet
May 30, 2000
Kelsey Grammer/Colonial Theatre
Macbeth
May 26, 2000
The Huntington Theatre Co.
King Hedley II
September 3, 1999
The Publick Theatre
Nine
August 21, 1999
Orange Tree Theatre, Ithaca, N.Y.
Sonata
August 13, 1999
Firehouse Theatre, Ithaca, N.Y.
Sister Mary Ignatius Explains it All For You
May 22-29
Newton South/North High Schools
Richard III
December 18, 1998
Newton North High School
The Bone Violin, May Flies
November 12, 1998
Newton North High School
To Kill a Mockingbird 052999

Travels:
June 8, 2004
France, England
December 22, 2003
Halifax, Nova Scotia
November 27, 2003
Florida
October 31, 2003
Potomac, Maryland
October 10, 2003
Las Vegas, Nevada
September 21, 2003
New York, N.Y.
November 27-30, 2002
New York, N.Y.
October 8-13, 2002
Evanston, Illinois
October 4-8, 2002
Las Vegas, Nevada
July 3-9, 2002
Canso, Nova Scotia
May 24-27, 2002
Long Island, New York
November 21-24, 2001
New York City
October 16-19, 2001
Cape Cod, Massachusetts
September 29-October 3, 2001
Las Vegas, Nevada (Interbike Show)
June 16-23, 2001
Nags Head, North Carolina
October 5-14, 2000
Evanston, Illinois
September 30-October 2, 2000
Ithaca, New York
June 22-25, 2000
Urbanna, Virginia
October 7-13, 1999
Chicago/Evanston, Illinois
August 19-28, 1999
Ithaca, New York
August 12-13, 1999
Ithaca, New York
July 23-25, 1999
Bridgeton, Maine
November 25-28, 1998
Fort Lauderdale, Florida
1988-89
France, England
1980
Yucatan, Mexico
1975
England, Belgium, Yugoslavia, Turkey

Since November 8, 1998
If you would like to make a link or bookmark to this page, the URL is:
http://sheldonbrown.com/org/journal/journal-0407.html