Search sheldonbrown.com and sheldonbrown.org
Sheldon Brown's Raleigh Competition "Superbe"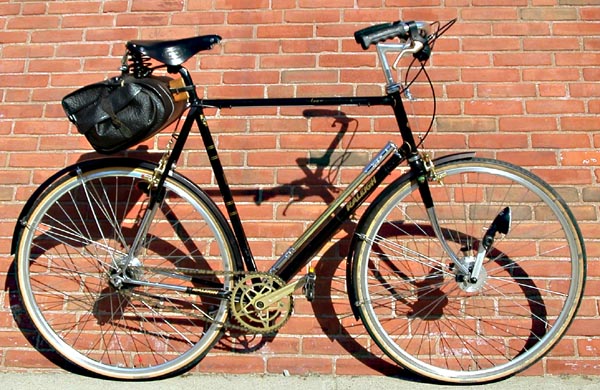 Concept:
(Click on small images for larger version)

My Raleigh Competition "Superbe" is intended to be an interpretation of the classic Raleigh Sports/Superbe 3-speed, only with higher-quality materials and with improved modern technology.

The frame is a classic Raleigh Competition, originally a 10-speed racing machine. It appears to be a 1976 model, all Reynolds 531 butted tubing, with Hurét dropouts.

I have equipped it with a Shimano Nexus 7-speed internal-gear hub, and a Shimano Nexus generator front hub.

Assorted gold anodized parts accent the gold trim on the black frame.

Rims are lightweight 622 mm (700c) Mavic clinchers, with Panasonic/Rivendell Roll-y Pol-y tires.

Fenders are ESGE/SKS P35
The drivetrain features a classic Stronglight crankset, with a 45 tooth chainring driving the 19 tooth sprocket on theShimano Nexus 7-speed internal-gear hub via a Regina Oro chain.
This provides gain ratios of: 3.0 to 7.3 (40 to 98 gear inches, 3.2 to 7.8 meters development.)
The pedals are Shimano PD-323s SPD on one side, plain cages for civilian shoes on t'other.
The Shimano hub came with a drum brake module, "Rollerbrake ®" in Shimano's parlance, but I left this off. I rarely use the rear brake, and schlepping one around that weighs a pound and a quarter doesn't appeal to me. Besides, the gold Mafac is so pretty, and the frame already had the braze-ons for centerpulls.
The Handlebars are Nitto North Road bars, very similar in shape to the steel North Road bars common to the Sports/Superbe. These have a slightly longer grip section, making them compatible with the Ritchey WCS brake levers. The grips are a good reproduction of the original Raleigh "Dare" grips.
The gold anodized Mafac Compétition centerpulls were a lucky find, along with the matching Stronglight crankset. I have replaced the original brake shoes with Kool Stop salmon refills intended for use with older Campagnolo brakes.
The Nexus generator hub is hooked up to a Lumotec Oval Plus headlamp. In addition to the 3 watt halogen bulb, the Oval Plus incorporates a "Standlight", white L.E.D. that keeps running for several minutes while the bike is stopped.
The bracket is home made from a piece of store-bought aluminum stock. It is held on by the quick-release skewer. The advantage of this is that the light and wheel come off as a unit, and can be easily moved, as a unit, from one bike to another.
The low placement of the lamp is desirable for a couple of reasons:
Because it is located below eye level, it is able to cast long shadows of rocks, potholes and the like, rendering them more visible.

The low mount also keeps it from being covered up by my rain cape in inclement weather.
Arguably, it could be better to have it on the left side, where it is visible to oncoming traffic without being shadowed by the wheel. However, the Nexus hub requires the wiring to attach on the right side, and this arrangement keeps the wire short and out of the way.
No "Superbe" could be complete without a sprung Brooks saddle. Since it is my intent to make this a bit sportier than the classic "All Steel" model, I went with the Champion Flyer. This is basically a B.17 with springs.
This bike also features an older Brooks Touring bag. It is a shame that Brooks stopped making bags, because they made some very nice ones.
This is a mid-level model, oilskin not canvas, but it does feature Brooks's patented quick-release system, which I like a lot.
I like to sit pretty far back on the saddle, and traditional touring bags tend to bump into my thighs if mounted in the standard manner. I have dealt with this by making a standoff from a piece of 2x3. I bored a 1 1/8 hole edgewise through a scrap 2x3, then cut it apart down the middle of the hole. This creates a nice semicircular fit against the seatpost. The stock Brooks seatpost strap wasn't long enough to reach around this, so I cut an old toe strap down to size. A staple keeps the spacer block and strap together when the bag is off the bike.
Photos made with Nikon Coolpix 2500, minor tweaking with Adobe Photoshop 7.0, April 15, 2003
If you would like to make a link or bookmark to this page, the URL is:
https://www.sheldonbrown.com/org/raleigh-competition-index.html

Last Updated: by Harriet Fell