Search sheldonbrown.com and sheldonbrown.org
Wandering the Show Floor, Interbike 2014



What I was Looking For:
This article describes items seen on the show floor at the 2014 Interbike trade show. My particular interests were:
practical bicycles for transportation;
internal-gear hubs;
bicycle lighting;
point-of-view video cameras
updates on items covered on the Web site;
current trends;
Anything of unusual interest
The show is huge, and I couldn't begin to cover all products or even all categories, but I think that I found most products of special interest to me.


Bicycles
Prominent at Interbike this year were electrically-assisted bicycles, and fatbikes -- mountain bikes with tires as wide as motorcycle tires. I rode these at the Outdoor Demo, which I've covered on another page.
I think that electrically-assisted bicycles represent an important trend. They are expensive, but they can in many cases substitute for a motor vehicle where a conventional bicycle cannot, and make bicycling more practical for an older person, or in hot weather or where terrain is steep.
I don't think that fatbikes will have as great an impact. They are a more sure-footed version of mountain bikes. I've seen some used a a kind of fashion statement, but they do have a real advantage in sand, mud or snow. I haven't seen any with fenders yet, though!
At the 2014 Interbike show, as in recent years, a couple of the largest bicycle manufacturers -- Trek, Cannondale -- did not attend -- though Specialized and Giant did. Trek and Cannondale support their dealers with their own shows around the country. Numerous smaller bicycle manufacturers, however, account for a large percentage of bicycle sales. Industry observer Rick Vosper published an article a couple of years ago describing this situation. I consider it healthy: it favors innovation and diverse product offerings.
At Interbike this year, there was, to be sure, a heavy racing presence: numerous booths with similar carbon-fiber road-racing bicycles and mountain bikes -- but we direct our attention here at sheldonbrown.com mostly to what is new different, interesting, economical, durable and practical.
Here are some of the bicycles I found most interesting at Interbike.
Creme bicycles from Poland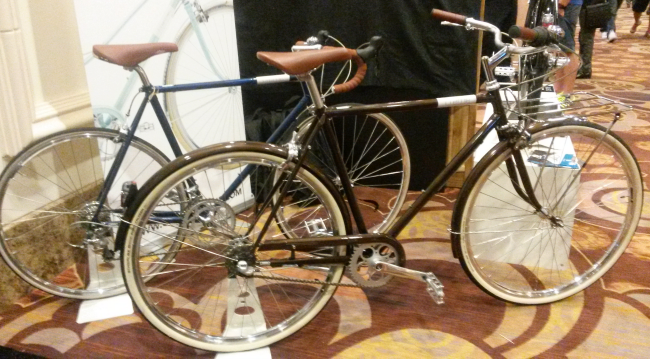 The wholesaler Bikesmart had a display of pleasingly retro Creme brand bicycles, made in Poland. These had brazed, lugged steel frames and sensible component choices. The closer bicycle in the photo above has a Shimano 3-speed hub, fenders, dual-pivot sidepull brakes and a front rack. The bicycle in the back is a classic retro steel-framed derailer-equipped bicycle which also could be equipped with fenders and a rack. Bicycle Retailer and Industry News has published an article about Bikesmart and Creme.

Xtracycle had a longtail cargo bicycle with a Bosch mid-frame electrical-assist motor. The Bosch motor requires a special bottom-bracket area and cannot be retrofitted onto an existing bicycle, unlike most other electrical-assist motors. The special frame design locks a purchaser into the Bosch system. Bosch is on the other hand a large and stable company, and the Bosch system, without a second chain to a conventional bottom bracket, is likely more efficient, durable and quieter than other mid motors; certainly lighter than hub motors.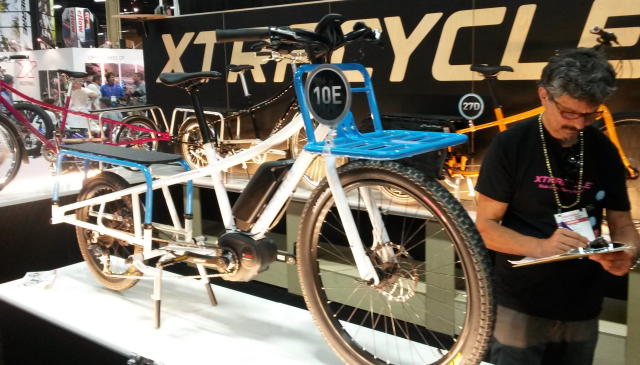 Xtracycle also has teamed with Tern to build the Cargo Joe, a folding longtail. Tern had the widest selection of folding bicycles at the show.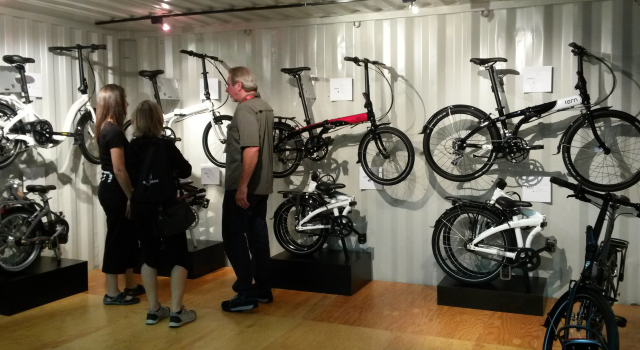 Tern split off from the Dahon folding-bicycle company due to a dispute over the direction of that family-owned company. News reports indicate that the Tern faction wanted more emphasis on utility bicycles. The dispute was settled by a mutual, confidential legal agreement in March of 2013.
DaHon had an exhibit adjacent to Tern's. The bicycles generally had narrower tires. The booth displayed a substantial line of accessories.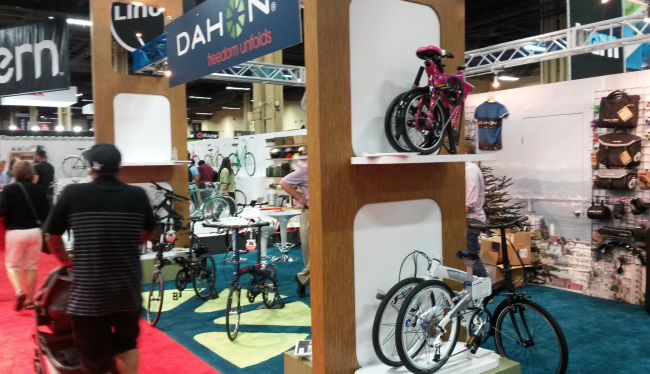 I've covered Brompton folding bicycles on the Outdoor Demo page.Several other manufacturers offered folding bicycles as well.

Ritchey Breakaway
The Ritchey Breakaway road bicycle packs into a suitcase which can be checked as regular airline baggage, avoiding airlines' exorbitant baggage charges.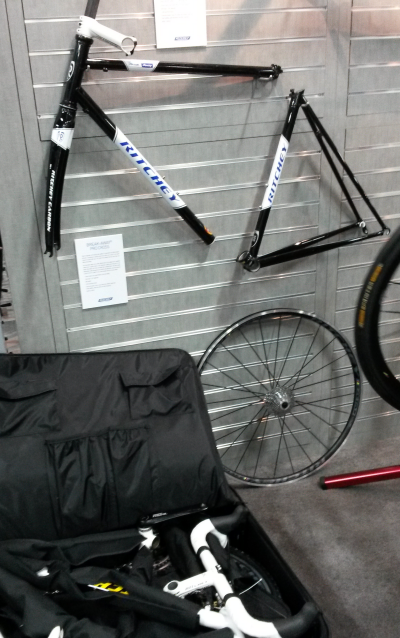 Ritchey also had a carbon fiber version and a tandem version of the Breakaway. Other options for airline travel are S&S couplers -- which only work with a steel or titanium frame-- and small-wheel folding bicycles, especially Bike Friday, Brompton, Tern and DaHon -- but the Breakaway serves the racing market.

Culprit Junior Racer
This Culprit junior racer bicycle with 20-inch wheels and a Shimano drivetrain offers an example of the diversity which smaller manufacturers can offer. The market for this bicycle has to be very small -- precocious children in avid cycling families, perhaps also people with dwarfism -- but there the Junior is, available for sale. One design issue of concern is the Shimano integrated brake-lever shifters, oversize for small hands. Bar-end shifters and conventional, small brake levers would probably work better.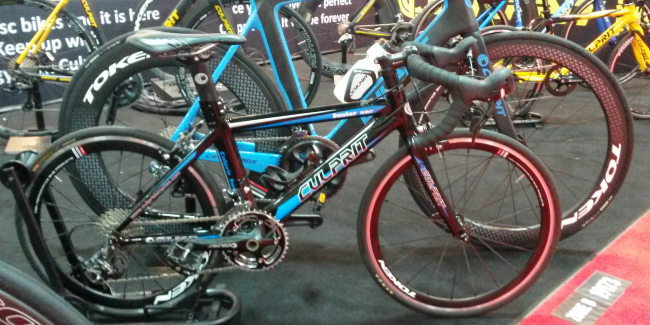 Bicycle frame and fork technology
An important development in recent years has been hydroforming of frame tubes. A length of tubing is placed inside a mold, and then water under extremely high pressure expands the tubing to fill the mold. This process allows tubing to be formed into a wide variety of cross-sections, bends and tapers to handle stresses better, or as a fashion statement, or some combination of the two. This exhibit is from Fairing Industrial, Inc.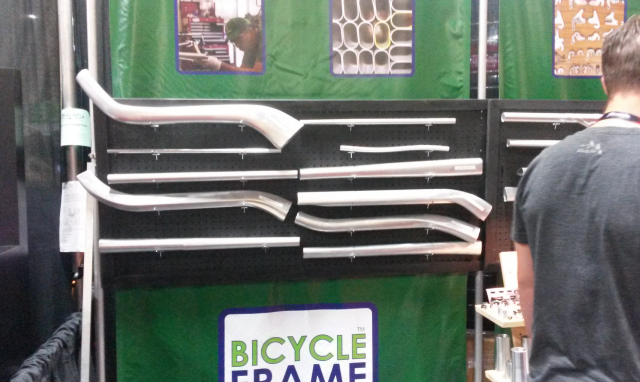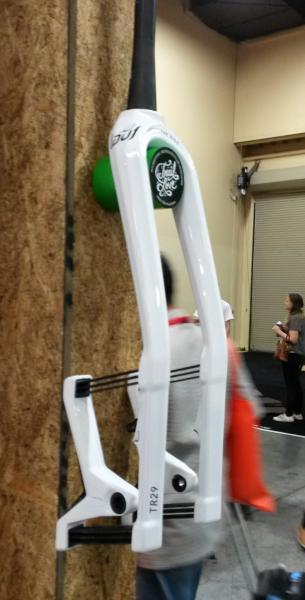 We're not great fans of carbon fiber here at sheldonbrown.com, but the Lauf suspension fork (photo at right) really caught my eye Common carbon-fiber frames and rigid forks provide a weight advantage over aluminum, titanium, or steel, but at a significant cost in durability and ruggedness, and there is nothing fundamentally different which stands out as an advantage.
Conventional suspension forks soften impacts from bumpy surfaces and hard landings, but are complicated and massive. I've had one very scary incident in which a bicycle with a suspension front fork went into a violent speed wobble. I attribute this to slight looseness in the mechanism, and to the massiveness of the sliding fork-blade assemblies.

I didn't have a chance to ride the Lauf fork, and I don't have any idea about its ruggedness or handling characteristics. It is not adjustable, but, obviously enough, it is radically simpler than a conventional suspension fork. It is also radically lighter.
The people in the Lauf booth were busy and didn't have time to talk with me, but Jeff Wilbur in the Cateye booth told me that the concept of this fork has been around for 20 years, at least on motorcycles. On the other hand, this is the first time I've seen it at Interbike. A news report on it...

Internal-gear hubs
Rohloff had a fatbike version of its high-end 14-speed internal-gear hub. Rohloff does not support servicing of its hubs (other than oil changes) by owners or bicycle dealers, but has contracted with one repair service, Cycle Monkey, to service Rohloff products in the USA. The Rohloff hub has established a fine reputation for reliability, and there should be little need for servicing.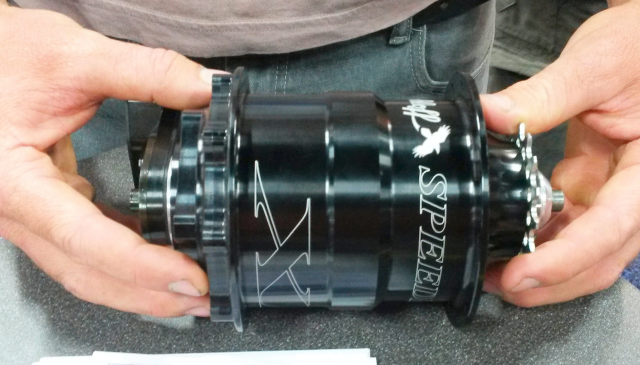 Sturmey-Archer displayed its rotary-shifting 5-speed hub, still available only in Japan, and a new 4-speed hub, not yet on sale. Like the Sturmey-Archer 8-speed, the 4-speed has only a unity ratio and increase ratios, making it most suitable for a small-wheel bicycle.
The good news from Shimano is that servicing instructions for Alfine 11-speed internal-gear hubs are under development. I attended a seminar at Interbike where the servicing procedure was described in a live talk with a PowerPoint presentation that used preliminary photos.
Despite having introduced two new and promising internal gear hubs over that past couple of years-- the G8 and G9 -- SRAM displayed only Road and Mountain components at Interbike -- there was nothing about internal-gear hubs. The absence raises the question which has held for years, whether lack of support in the USA makes SRAM internal-gear hubs a less attractive choice here. The most complete information you will probably find anywhere about the G8 and G9, at least in English and available to the public, is here on sheldonbrown.com.


Other components
White Industries ENO hub
This hub was a favorite of Sheldon's, because it allows chain adjustment on a fixed-gear or singlespeed bicycle with vertical dropouts. The first version of this hub used a conventional threaded fixed-gear sprocket and reverse-threaded lockring. The new version uses a proprietary splined spocket on the fixed-gear side, making sprocket changes easier and avoiding issues with loosening and crossthreading. The other side of the hub has standard freewheel threading. Sheldon has more complete coverage of the ENO hub on his fixed-gear conversion page. Harris Cyclery stocks this hub, and offers some helpful tips on how to remove and replace an eccentric end cap -- sometimes necessary to engage a freewheel remover.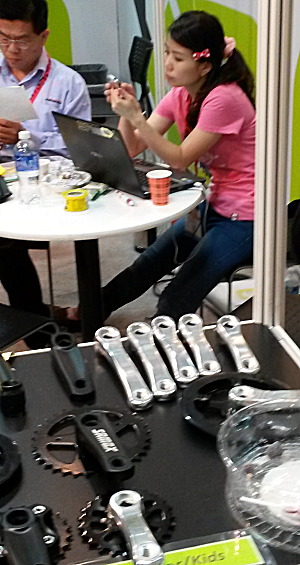 Samox cranks
Here's another demonstration of the importance of smaller suppliers in providing diversity -- this time, in components. The Taiwanese company Samox displayed a wide variety of short cranks suitable for children's bicycles and kidback tandems.
Samox also had some conventional cranks, including BMX cranks, fatbike cranks, and cranks which use large-diameter hollow crank spindles.
A small-scale bicycle manufacturer which wants to serve a specialty market often has to rely on smaller component suppliers such as Samox, because the major component manufacturers tend to stick with high-volume products. The Samox people didn't look very busy when I passed by their booth. I wish them success.

Lighting
In search of an economical shaped beam pattern...
High-efficiency white LEDs have made possible bicycle headlights which rival motor-vehicle headlights. Due to the lack of Federal regulation of bicycle lighting, most bicycle headlights sold in the USA cast a circular beam pattern, like a flashlight, and throw bright light above the horizontal, into the eyes of oncoming bicyclists and motorists. In rain, snow or fog, the light above the horizontal also cna wash out the cyclist's view ahead. Some rather expensive European bicycle headlights, from SON, Edelux and Phillips, avoid these problems. The LED does not face directly outward, but instead, aims all of its output into a curved, reflectorized surface that shapes the beam pattern.
At Interbike in 2010, a Taiwanese company, Dosun, was selling a small, battery-powered light with a shaped beam pattern. I bought one.
At Interbike this year, I found Dosun again, and I now have a newer model Dosun headlamp to compare. All of the Dosun headlights I saw in the booth run on batteries: the newer one, on a rechargeable battery. Dosun does sella headlight which runs from a generator, too.
Here are two photos of DoSun representative Ann Pan behind an array of lights, taken with the camera at slightly different heights.
In the left-hand photo, the camera is outside the bright part of the beam of all of the headlights. In the right-hand photo, the camera is in the bright part of the beam of two of the headlights, but still above the bright part of the beam of the other two, which are aimed slightly lower.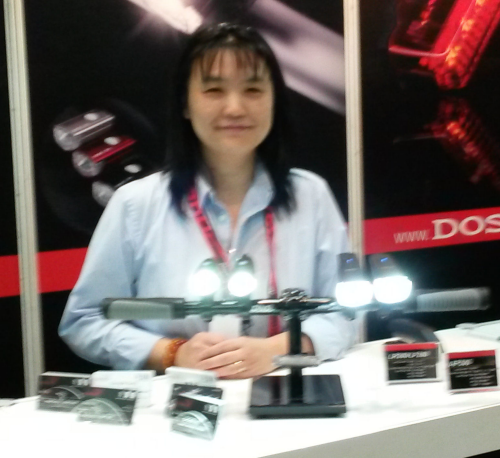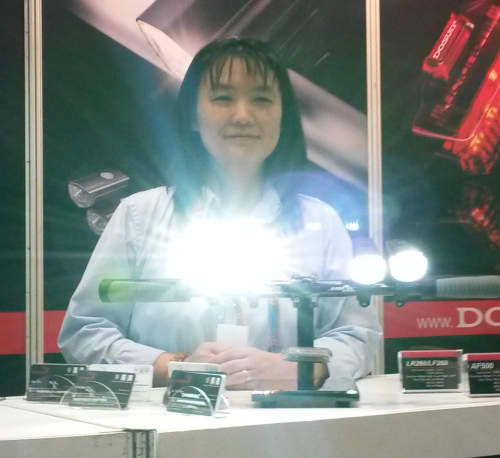 Another Taiwan company, S-Sun, also is selling headlights with a shaped beam pattern, under the brand name Ilumenox. One model on display was powered by a hand-cranked hub dynamo. This headlight includes a capacitor to keep it shining at lower brightness for up to four minutes when the bicycle is stopped.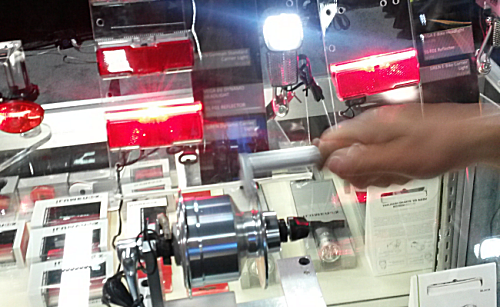 My friend Randy Swart, of helmets.org, looked at these lights with me, and says that they are a year or two behind the European leaders in the amount of light output. On the other hand, the Taiwanese headlights produce a very respectable output, have a shaped beam pattern, and cost in the $60-$70 range -- half the cost of the European ones.
Wheel lights
Several booths had lighting systems with a wheel rotation sensor to turn LEDs on and off. Most of these use LEDs attached to spokes to display a scanned pattern or image to the sides of the bicycle -- a novelty and a distraction, if you ask me. Revolights are an exception, with LEDs facing to the front and rear of the bicycle, meeting the legal requirement for a white headlight and red taillight.
The image at the left below shows a bicyclist in the Revolights booth, pedaling on a trainer, and the image at the right, a stationary wheel with Revolights strips next to the rim.
The location of the LEDs on circular strips just outboard of the rims makes them vulnerable, and they don't control the beam pattern.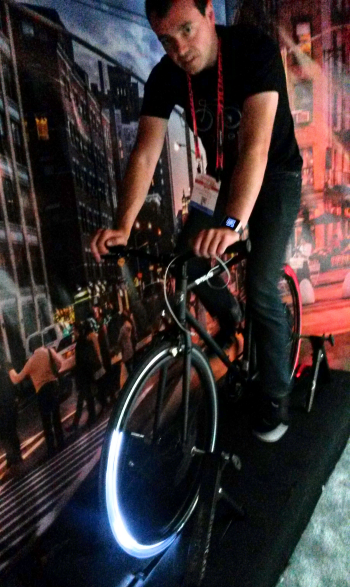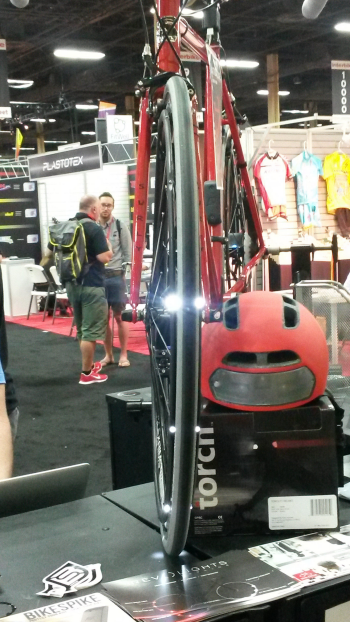 The Fly6 is an unusual taillight which includes a digital video camera programmed to do a rolling save, recording over material 1/2 hour or more old -- a useful feature to capture interesting events and legal evidence without a lot of pointless footage. The camera has a tilt sensor to stop recording in the case of a crash. I'm not sure whether the user can save clips and then continue recording, the best choice if shooting video to illustrate random events of interest.
The Fly6 has been widely advertised with the slogan "watching your back." The exhibitor's booth ran a video showing a number of nasty crashes behind the bicyclist who was recording, in racing packs and mountain bike downhill runs, and some close passes by motorists. I cringed a number of times at crashes which would easily have been avoidable.
In the photo below, you might notice an Alfred Hitchcock appearance by the photographer if you look closely.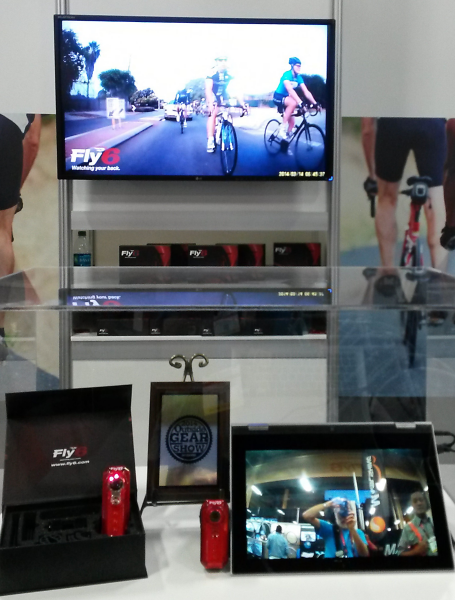 Fly6 advertising tends to perpetuate the misconsption that most car-bike collisions are impacts from the rear. Most clips in the video where the Fly6-equipped cyclist crashed resulted from a hazard ahead of the bicyclist, unseen by the rear-facing camera. The company plans to remedy this problem next year when it offers a forward-facing camera. I'd also hope that this product would upgrade from 720-line to 1080-line video resolution, making it easier to read automotive license plates.
Zackees was displaying its bicycle gloves with embedded LED turn signals, in a booth with a keyboard player at a synthesizer mocked up to look like a grand piano. The man at the front of the booth explained that this was for display impact, and indeed, there was display impact.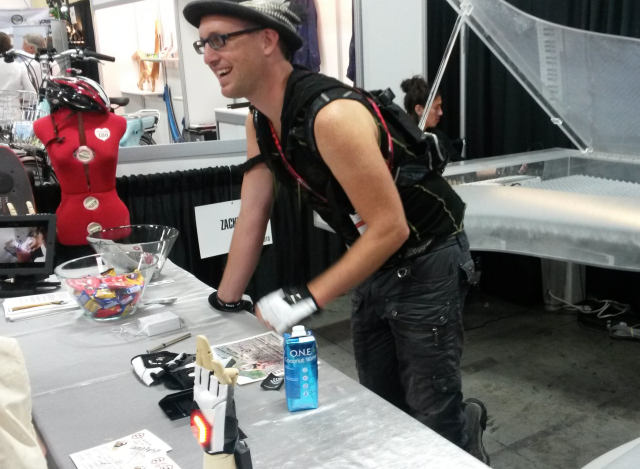 I use reflective tape on the back of my gloves. Lighted gloves, unlike my reflectorized gloves, are visible to people who don't have headlights aimed at a cyclist -- but most encounters which require signaling are with drivers to the rear, who do.
The arrow on a Zackees glove points somewhat downward when making a turn signal with the arm extended outward, and upward when making a left-handed right-turn signal. I say: just use a spot of light: forget about the arrow. Motor-vehicle turn signals, after all, use location, not an arrow, to indicate direction. A bicyclist's extended hand is far from the centerline of the bicycle. An arrow can only be correct in one orientation of the hand, and in any case the flashing of the signal is visible long before an arrow could be made out.


Tools and Accessories
Park Tool
I can always expect to find something new, interesting and useful in the Park Tool booth. Here Jeff Swanson demonstrates a new tool to fish an internally-routed bicycle cable through a frame which has been partially dissected for demonstration purposes.. A flexible wire is slid in at the upper end of a frame tube, then screwed onto a fitting on another wire at the bottom. After both wires have been pulled through, cable housing is slid onto the wire at the upper end and guided to the other end of the tube. A magnet helps to guide the wire through the tube. Probably the magnet would not work so well with a steel frame.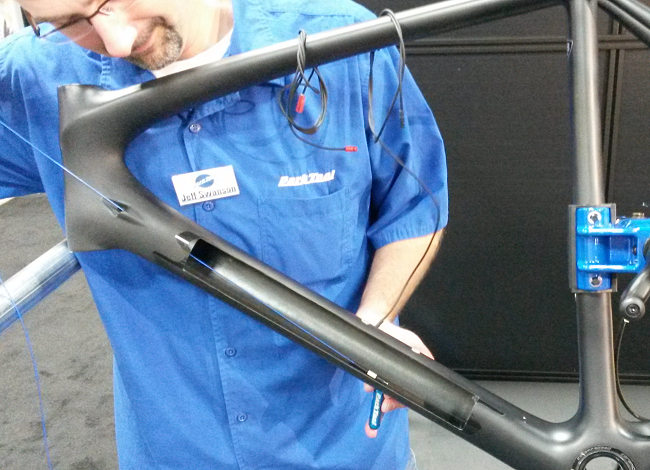 Other new items from Park included chain pliers -- like a chain whip except that they grip a sprocket on both sides at once, much more convenient; extra-wide storage hooks for fatbikes; a monster Allen wrench needed to disassemble some of the newer Shimano Freehubs; tools to remove and install external bottom-bracket cups, and more.
Patchnride
The clever Patchnride tire-patching system works like today's knee surgery: tools are inserted through small holes from the outside. The tire is not removed from the rim; a tubular need not be unstitched and resewn. The Patchnride tool has a prong to scrape out the object which caused the puncture and to inject patching cement, then the patch, through the hole in the tire casing. The patch unfolds inside like an umbrella. The photo at the right shows an installed patch: the tire has been cut open to show how the patch sits on the inner tube inside the tire. Patchnride, though, can work only for small punctures and only if the hole in the tire casing remains aligned over the one in the inner tube. For larger punctures, for pinch flats or when the casing needs booting, the tire must still be removed from the rim.
There also were several tubeless tire systems on display at Interbike. We'll cover tubeless tires on another page.
Bike Organizer
I was unable to test the ZicTech Bike Organizer, but it looks like a clever and practical idea -- a compact stand which holds a bicycle vertical to take up minimal floor space -- or the bicycle can be horizontal, if you like. The bicycle is verticalized by rearing it up like a horse. The stand includes compartments for accessories and a fitting for a lock.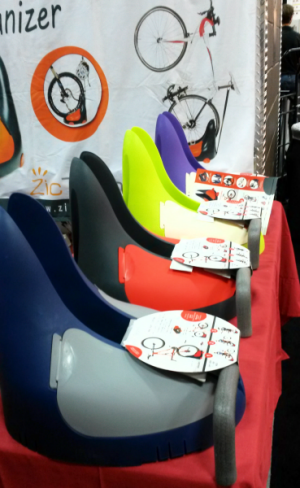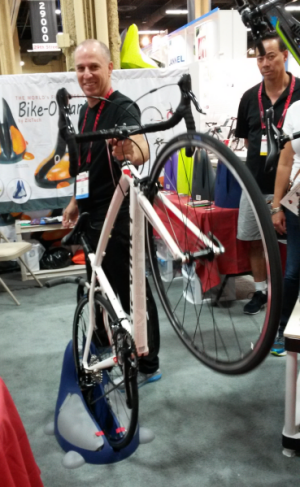 Wine bottle holder and lock holder
Another niche product: Oopsmark, a small Montreal, Canada company, offered a stylish, leather wine bottle holder for under the top tube of the bicycle, and a U-lock holder. They nicely match the color of the bicycle's Brooks saddle in my photo.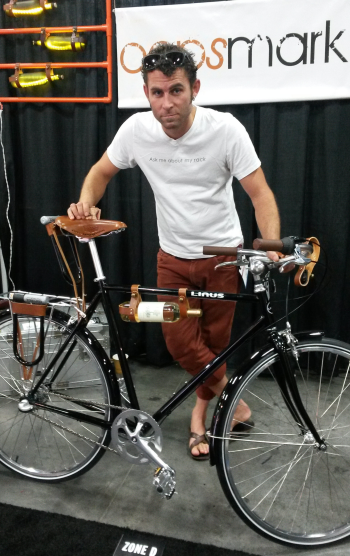 That's it for my report. Also check out the Interbike Web site, if you care to see more.

Our reports on earlier Interbike shows


If you would like to make a link or bookmark to this page, the URL is:
https://www.sheldonbrown.com/vegas2014.html
Last Updated: by John Allen