White Industries eric eric's erik white industries eccentric eno Titanium hub fixed vertical dropouts stainless steel freewheel sealed bearing cartridge eno bulletproof White Industry verticle dropout, White Industries Titanium Free wheel vertical fixed fixed-gear fixed wheel eccentricfreewheel sealed bearing cartridge bulletproof White Industry
The White Industries
ENO Single Speed Fixed/Free Hubs
New! Splined Version In Stock!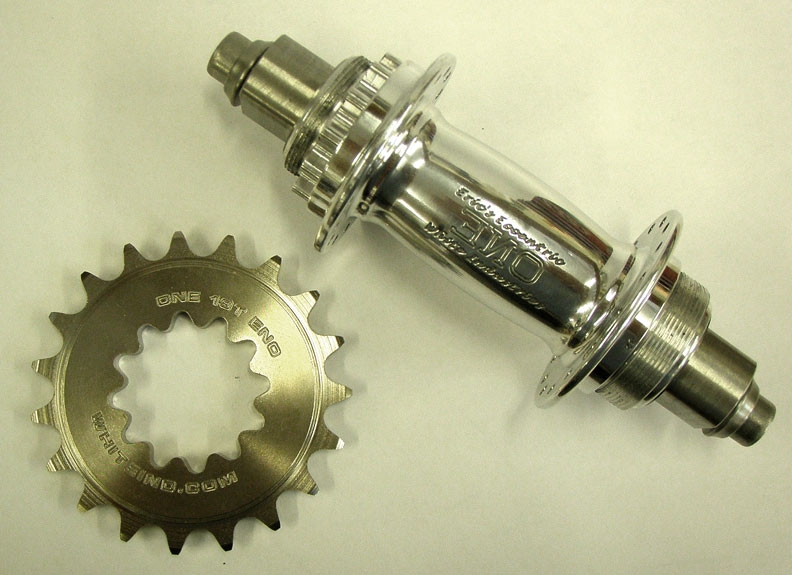 The First Fixed-Gear Hub For Vertical Dropout Frames!
This the most exciting development of the century for singlespeed and fixed-gear fans!
These hubs feature an eccentric axle mount, finally allowing easy conversion of your existing mountain or road bike to singlespeed or fixed gear without the need for kludgy chain tensioners, even if you've got vertical dropouts!

They are available in 135, 130 and 126 spacings, and feature a 47.5 mm chain line (lines up with the middle ring of a standard MTB crankset, or with the cog flipped over, it will line up with the outer ring of a typical road double.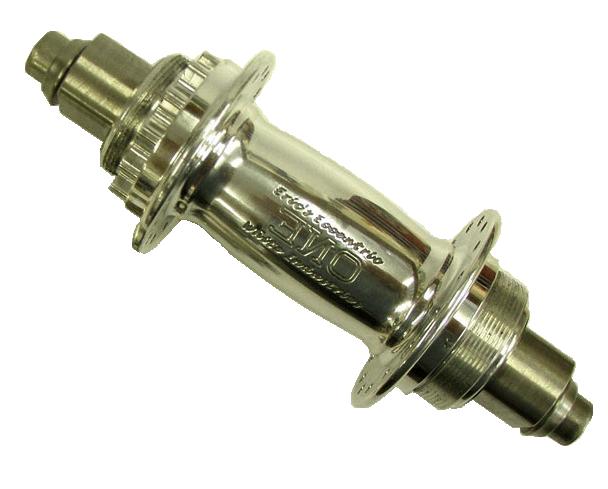 Splined Version! ENO eccentric single speed hub $159.95
Exclusively for use with White Ind. splined fixed gear cogs (sold separately).

This design eliminates cross threading and cog movement. The cog fits securely in place with White Ind's precision machined spline system.

Use any standard thread lockring to secure cog. Freewheel side will take any standard thread freewheel.
The ENO hub is designed for a 47.5 mm chainline, which matches the middle position of a typical MTNB triple crank.

A typical "road" double gives about a 46 mm chainline with the standard bottom bracket, which is a decent match. Ideally, you would want to adjust the chainline to be perfect, though.

The Sugino RD crank we feature gives 47.5 chainline when used with a common Shimano 110 bottom bracket, so if you need to buy a crankset anyway, this would be a great combination. The ENO hub uses an oversized aluminum axle with stainless steel ends that fit into the axle. The ENO comes equipped with two sealed cartridge bearings and is available in 32 and 36 hole versions.

The eccentric axle provides a total adjustment of range of 15 mm. Each tooth added or subtracted to your drive train requires that the axle move 1/8" (3 mm) backward or forward.

Most folks find that the best setup is to use a fixed gear two teeth smaller than the freewheel gear. The idea is to use the fixed gear for general riding, and to keep the lower freewheel gear in reserve for longer rides, steeper terrain, or when you're just plum tuckered out. The lower gear will make the climbs easier, and the freewheeling feature will let you rest on the downhills, but you'll be slower on the flats.

Note that the offset will effectively raise or lower the rear end of the bike a bit, and will move the rim downward or upward with respect to your rear brake, if you use one, so some adjustment may be required, and some frame/brake combinations may not work.

Replacement/Conversion Parts:
Replacement Axle Caps/Ends $45.00/Pair

Do you have a White Industries ENO Eccentric hub that doesn't match the spacing of your frame?

If so, a pair of these caps will convert it to whichever standard spacing you need: 126 mm, 130 mm or 135 mm.
Freewhweel removal issues:
The eccentric axle caps sometimes interfere with use of a freewheel remover to unscrew a single-speed freewheel from the White Industries eccentric hub.

If you have a problem with this, the solution is to temporarily remove the axle cap from the hub.

The axle cap is held on by a single recessed Allen bolt (4 mm wrench size) that screws down into the centerline of the axle. Once you remove this bolt, the axle cap can be pulled off. The axle cap is usually a snug fit, and takes a fairly strong pull to remove. It is hard to get a good enough grip on it to pull it off, so here's the trick:

Once the small Allen bolt has been removed, use the larger main Allen bolt (the one that holds the hub to the frame dropout) to bolt a convenient-sized box wrench against the axle cap. The wrench will act as a "handle", and a bit of rocking and pulling will get the cap off with no problem.

Why should you want a one-speed bicycle
that won't let you coast?
Read all about it!

If you would like to make a link or bookmark to this page, the URL is:
http://harriscyclery.com/white-hubs.html
Copyright © 2005, 2008 Harris Cyclery