Harris Cyclery Gift Certificates!


Bottles & Cages
King Cage Stainless-Steel Bottle Cage WCK100 $15.95

Keep your bottles looking good by upgrading to King Cage's Stainless-Steel Bottle Cage. It won't mark your bottles because it's made of 304 stainless-steel tubing, which won't rust, is super strong and holds bottles securely. The cage weighs only 48 grams and is handcrafted in the USA, too.

King Cage "Iris" Stainless-Steel Bottle Cage WCK102 $15.95

Add a touch of class to your bicycle with King Cage's Iris Cage. This classy cage is made of tough 304 stainless-steel tubing, which is super strong, won't rust and holds bottles securely without marking them. It weighs only 48 grams and is handcrafted in the USA, too. Perfect for metal bottles, i.e. Kleen Kanteen.

Elite VIP Universal Cage Mount WC9115 15.95

These are the nicest add-on bottle cage mounts we've seen.

Computers
CatEye Velo 9 Cyclecomputer (Replaces Velo 8) CY1008
Functions

Current Speed Measurement
Average Speed Measurement
Max Speed Measurement
Trip Distance
Elapsed Time
Odometer
Calorie Consumption
Clock
Total Distance Pace Arrow
Automatic power Saving
Tire Size: 16"/18"/20"/22"/24"/26"/700c
Weight: 28 grams
New tool free universal mount ( 22 to 32mm diameter)
CatEye Cyclecomputers are the most reliable, well-engineered units available.

Fenders / Mudguards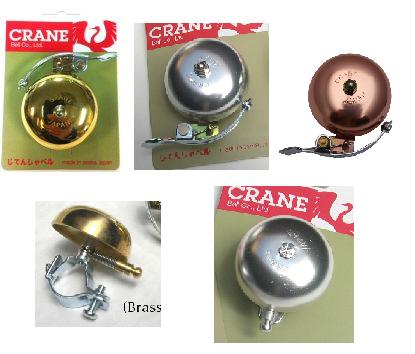 Crane Bells
Spring Loaded Strike (Silver or Brass) $14.95
Lever Strike (Silver, Brass or Copper) $14.95 - $17.95
Redesigned clamp fits bar diameters ranging from 22.2mm to 26.0mm
Measures 55mm in diameter
All metal construction with durable plated steel clamp and striker
Made in Japan
Cool retro look
Clear, sustained ring

ESGE/Pletscher Double-legged kickstand $56.95

This sturdy aluminum kickstand is particularly popular for use with tandems and loaded touring bikes.
Made in Switzerland, so it ain't cheap.



URL: http://harriscyclery.com/accessories

Copyright © 2005, 2008, 2012, 2013 Harris Cyclery