In West Newton Since 1952 - On The Web Since 1995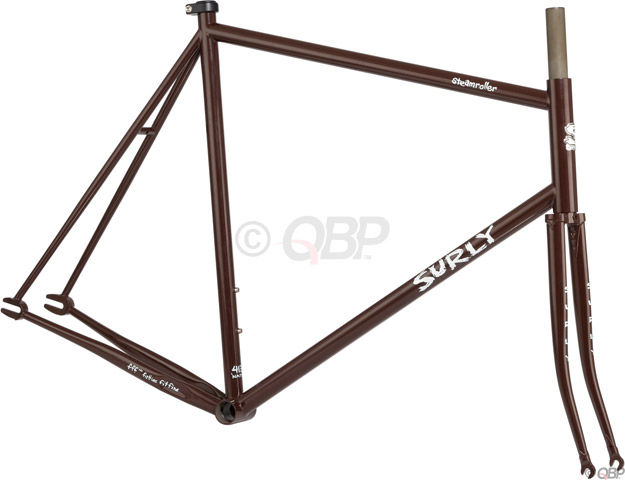 A steamroller has the ability to flatten anything in its path, which is exactly how you'll feel the first time you take our new Surly Steamroller® fixed-gear for a twirl. Unstoppable. Euphoric. Happy. If you haven't ridden 'fixed' before you might even feel a little bit scared.

Designed specifically to give you the ideal foundation for a pure and unadulterated fixed-gear bicycle, some will see the Steamroller® and think "messenger", while others will automatically think "track". We hope you'll think about those two, plus "coffee shop", "watering hole", "commuter", "urban assault", "double century" and whatever else. What you do with it is up to you, we can only hope you won't let your preconceived notions about fixed-gear bikes impair your ability to realize the possibilities of the Steamroller® frame. The only thing it wasn't designed to do is coast. Do what you like, because as with all Surly® products, this frameset is merely another platform to expand your horizons and bring your rides to a new or different level of enjoyment.

Since reliable freewheeling technology evolved decades ago, folks have ridden fixed gears by choice, not out of necessity. We won't try to convince you that riding 'fixed' is better or special or why you should try it, you'll have to determine that for yourself. We will take the opportunity to say that at the unbelievably low price of $410 for frame and fork, this may be the best chance you've had yet to give coast-free riding a shot. Gee, the Steamroller® just might change your life (if this happens please call us)!

The Steamroller® geometry, tubing choices and features or lack thereof are deliberate in our quest to bring you a balance of pure aesthetics and a ride that is aggressive enough to be quick, exciting and purposeful, yet just mellow enough to be ridden all day long in comfort. We gotta point out the nice fork crown, drilled for a long-reach safety brake (and you'd be a fool not to install one!)

The Steamroller® is available in 4 sizes to fit a spectrum of riders, and was designed by fixed-gear riders for fixed-gear riders.
since August 27, 2000 --> Updated March 22, 2002

If you would like to make a link or bookmark to this page, the URL is:
http://harriscyclery.com/surlysteamroller.html
Copyright © 2005, 2008 Harris Cyclery