In West Newton Since 1952 - On The Web Since 1995
The Surly 1 x 1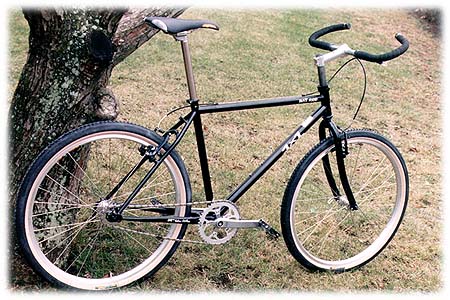 Check out the Surly 1 x 1
The Surly 1 x 1 frame set is made from butted 4130 CrMo tubing with Sub 11.0 track-style fork ends. It's a great bike for singlespeed or fixed gear use, on or off road! (The bike pictured is our demo model, and we left the threadless steerer extra long so people of different heights can comfortably test ride it.)

This frame has very generous tire clearance for ultra-wide tires, even with fenders; fittings for cantilever brakes front and rear.

The Surly 1 x 1 is designed for a 135 mm rear hub, either a singlespeed MTB hub or a modified cassette hub.

This frame is also ideal for use with internal gear hubs, such as the Shimano Nexus or SRAM Spectro 7-speed or the Rohloff Speedhub 14 speed!

Surly 1 x 1 Frame Specifications
Size
Seat
Tube
Top
Tube
Head
Angle
Seat
Angle
Chain Stay
Small
16"
21.7"
71o
73o
16.5-17.5"
Medium
18"
23.0"
71o
73o
16.5-17.5"
Large
20"
23.6"
71o
73o
16.5-17.5"
Includes suspension-corrected rigid fork
Seat post 27.2 mm
Seat post clamp 30 mm
Bottom Bracket 73 mm
2.7" tire clearance
Fender eyelets
No derailer tab
Click here for more detailed specs.

The Surly 1 X 1 Singlespeed MTB
The Surly Karate Monkey 29 inch do everything frame
The Surly Long Haul Trucker touring frame
The Surly Pugsley go everywhere frame
The Surly Steamroller fixed-gear road frame.

Why should you want a one-speed bicycle
that won't let you coast?
Read all about it!

If you would like to make a link or bookmark to this page, the URL is:
http://harriscyclery.com/surly1x1.html
Copyright © 2005, 2008 Harris Cyclery