In West Newton Since 1952 - On The Web Since 1995
Handlebar Stems from Harris Cyclery

Stems for 1" Threaded Forks
Stems listed in this section have standard 7/8" (22.2 mm) diameter quills, fit most higher quality bicycles made in the 20th century.
Exceptions: Older American bikes that use the 13/16" (21.15 mm) size-Click Here | Older French bikes that use the 22.0 size-Click Here

Nitto Technomic stems
These are beautiful, Japanese-made forged aluminum stems with an extra tall column (225 mm overall.) Not as flexible as you were when you bought your bike? Want a more upright position without sacrificing the versatility of your drop bars? This is the ticket! These allow you to raise your handlebars about 2 1/2" higher than traditional stems.

These have a standard 22.2 mm (7/8") column which fits standard "one inch" fork steerers.

The 26.0 mm clamp fits most modern road handlebars (except the newer 31.8mm).

Shims are available for handlebars with 25.4mm center.

Sizes (Extention/reach): 50mm, 60mm, 70mm, 80mm, 90mm, 100mm, 110mm, 120mm

Nitto Dirt Drop Riser Stem
The Dirt Drop is one of the few riser stems designed for drop handlebars.

The lower clamp section has slight cutaways on each side that allows a drop handlebar to pass through. These have a standard 22.2 mm (7/8") column which fits standard "one inch" fork steerers.

Extention: 80mm or 100mm
Quill Overall Length: 190mm
Clamp Diameter: 26.0mm
Quill Diameter: 22.2mm
Cold forged, heat-treated aluminum
Color: Silver

26.0mm clamp is standard on most pre-2010 road handlebars.

Not designed for rugged off-road use.

Kalloy Riser Stems
Aluminum stem with 17 degree rise. These have a standard 22.2 mm (7/8") column which fits standard "one inch" fork steerers.

Rise (angle up): 17 degrees
Reach (Extension): Current stock is 100mm only!
Clamp Diameter: 25.4mm
Quill Diameter: 22.2mm
Quill Overall Length: 180mm
Color: Silver

25.4mm clamp is standard on most flat and riser handlebars.
This stem will not work with drop handlebars.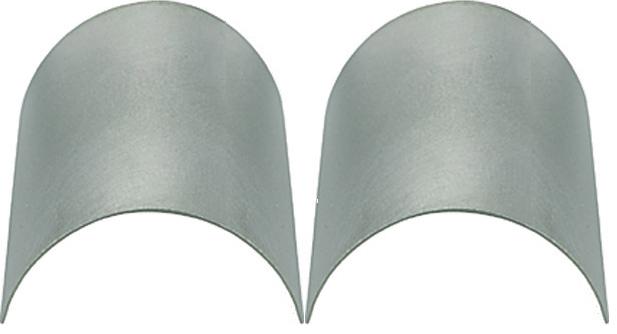 Problem Solvers Handlebar Shims SM1070
These shims let you use a standard 25.4 mm (1 inch) diameter handlebar in an Italian size (26.0 mm) stem.


Stems for 1 1/4" Threaded Forks
Nitto MT Column SM1143

This is a quill adaptor that fits into a 1 1/4" threaded fork, and allows you to use any 1 1/8" threadless-type stem. Just the thing for Santana tandems!

Stem Raisers

Stem Raisers for Standard Quill (post-type) Stems
A stem raiser fits into the steering column in place of your present stem, and secures with a wedge bolt in the normal manner. The upper part of the stem raiser sticks out above the steerer, and is bulged out so that you can insert your original stem. The bottom of the original stem winds up a bit above the top of the headset, so you gain several inches of height.

Overall length is 210mm. The bulged section is 100mm. Length to minimum insertion is 140mm.
Part #
For Stem with a Quill Diameter of:
Diameter
of inserted part of Raiser
I.D. of bulged section of Raiser
Application
Price
SM247
13/16" (21.15 mm)
13/16" (21.15 mm)
13/16" (21.15 mm)
for older American bikes, BMX.
SM248
7/8" (22.2 mm)
7/8" (22.2 mm)
7/8" (22.2 mm)
fits most bikes with 1" threaded headsets (Most common).
SM249
1.0" (25.4 mm)
1.0" (25.4 mm)
1.0" (25.4 mm)
fits oversized forks with 1-1/8" threaded headsets. (Not very common).
Note: Steerers are butted at the bottom, so the hole in the steerer is constant-diameter until near the bottom, then the walls taper inward in the butted section. It is vitally important that the stem extender (or stem) is not inserted so far that the wedge is installed where the steerer is narrowing, or it could come loose unpredictably. This is sometimes a problem on smaller frames if you try to insert the stem or a stem riser too far down into the steerer.


URL: http://harriscyclery.com/head.html

Copyright © 2005, 2008, 2011, 2012, 2013, 2014 Harris Cyclery