Chainrings from Harris Cyclery
We stock a wide range of chainrings for modern and older crank sets.

For more technical detail see the B.C.D. entry in Sheldon Brown's Bicycle Glossary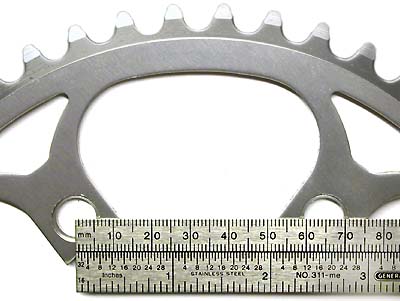 Measuring BCD: This 110 mm BCD ring measures 64.7 mm center-to-center.
Multiplying this dimension by 1.7 will give you the actual BCD for a 5 bolt chainring.
Chainrings for 5 Arm Cranks:
Click on BCD size to see what we've got available
BCD
(mm)
Smallest
Ring
C-C
(mm)
Application
151
44
88.8
Very old Campagnolo standard (pre '67) (Obsolete)
144
41
84.6
Old Campagnolo standard, still used for track applications.
135
39
79.5
Current Campagnolo standard also Miche track
130
38
76.4
Standard Road double and Road Triple middle, outer
128
38
75.2
Nervar (Obsolete, N/A)
122
38
71.7
Stronglight 93, others. (N/A)
118
36
69.4
Ofmega, SR (Obsolete, N/A)
116
35
68.2
Old Campagnolo (Obsolete, N/A)
110
33
64.7
Touring double, standard triple outer
94
29
55.4
MTB triple outer
92
30
53.3
Shimano Dura-Ace triple (inner)(N/A)
86
28
50.5
Stronglight 99, some SR triples. (N/A)
74
24
43.5
Standard ("full-sized") triple inner, used with 110 mm, 130 mm or 135 mm rings.
58
20
34.3
Some MTB granny
56
20
32.9
Sun Tour Compact granny (Obsolete)(N/A)
Chainrings for 4 Arm Cranks:
BCD
(mm)
Smallest
Ring
C-C
(mm)
Application
104
32
73.6
Shimano XTR M960, XT, LX 4-arm outer
64
22
45.3
Shimano XTR M960, XT, LX 4-arm inner
6 Arm TA Chainrings:
see French Parts
Chainrings Bolts from Harris Cyclery
Sugino Double Chainring Bolt Set CR004
Chainring bolts for double chainrings, also work for the two larger rings of most triple cranks.

Set of five. The Suginos are more expensive than the generic ones but the steel is much harder.
Triple Chainring Bolt Set CR003
Chainring bolts for Old Style triple chainrings, where all three rings are bolted together.

Set of five.
128 mm bolt circle--Nervar, obsolete see French Parts
118 mm bolt circle--Sorry, not available
116 mm bolt circle--Sorry, not available
130/92 mm bolt circle (Shimano Dura-Ace Triple)
Outer two rings are 130 mm, inner ring is 92 mm.

Only available in 30 teeth.
T.A. Chainrings from France
T.A. chainrings are super-high quality, premium rings in Zircal 7075 aluminum. They have machined teeth, and a mirror-like finish.

T.A. triple conversion chainrings include the necessary bolts and spacers to attach a 74 mm granny chainring.

Classic T.A. Cyclotouriste cranks, chainrings and bottomm brackets are listed on our French Cranks Page.
"9-Speed" Chainrings
There is a lot of confusion about the compatibility of narrow 9-speed chains with older cranksets. Shimano says you should replace the inner chainring(s) with specially designated 9-speed ones, but then they're all too eager to sell you stuff, whether you need it or not.

Shimano is also concerned about clueless users. The worst-case scenario is that you will be riding along with the bike in its highest gear (large front, small rear) and then for some bizarre reason shift down in front before downshifting in the back. (There is no shift pattern in which it is reasonable to shift in this sequence.) If you do shift this way, there's a small chance that the chain might "skate" over the edges of the teeth for maybe half a turn.

In practice this "problem" almost never materializes. Many, many cyclists are using 9-speed chains with older cranksets and having no problems whatever.
URL: http://harriscyclery.com/chainrings.html
Copyright © 2005, 2008, 2011, 2017 Harris Cyclery