In West Newton Since 1952 - On The Web Since 1995
The Adams Trail-A-Bike!
Replacement Hitch Kit AD001 $21.95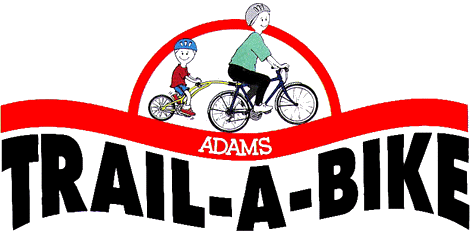 These "half-bicycle" trailercycles allow even a small child to
share the exercise and accomplishment of cycling with a parent.
If you are in range of West Newton, Massachusetts, you can come in for a test ride...but, be warned, after you do, your child will probably insist that you buy one!
The Adams Hitch
Adams Trail-A-Bikes feature a large sturdy universal-joint hitch, which does not rely on the lead bike's seatpost as a bearing surface, as many lesser imitations do.

Please note that the 1998 and later Trail-A-Bikes use an improved, enlarged hitch coupling, which is not compatible with the older version.
If you would like to make a link or bookmark to this page, the URL is:
http://sheldonbrown.com/trailrcy.html