<!- flooble ->

In West Newton Since 1952 - On The Web Since 1995
Shimano Nexus & Alfine Internal Gear Hubs:
Shimano Alfine 11-speed Hubs w/Shifter $699.95
Click "Cart" button for availability.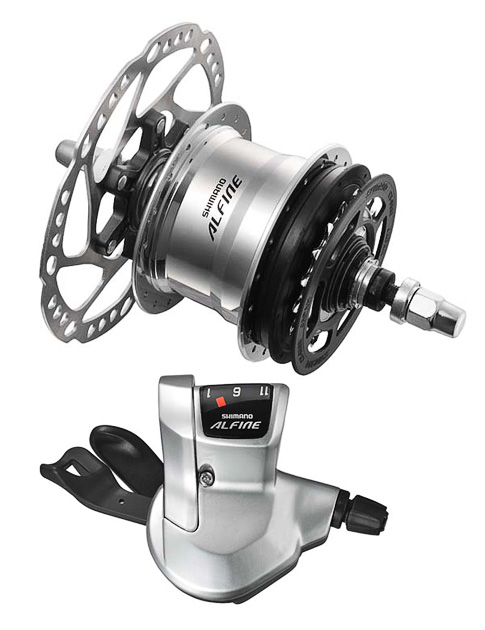 The highly anticipated Alfine 11-speed hub is here. The internals are lubricated in an oil bath (much like the Rohloff). The gearing ratio is wider than the Alfine 8 (409% compared to 306%). The Rapidfire shifter features "push-push" operation similar to XTR.

Complete with shifter, 18t cog and parts kit.
Centerlock Disc brake capability. (Disc rotor not included)
Spacing: 135mm
Includes anti-rotation washers for vertical dropouts.
Weight: 1665g (Alfine 8 is 1680g)

Link to tech documents.
Specs from Shimano website.
HUH220 Alfine SG-S700 32 Hole Silver
HUH221 Alfine SG-S700 36 Hole Silver
Shimano 8-speed Hubs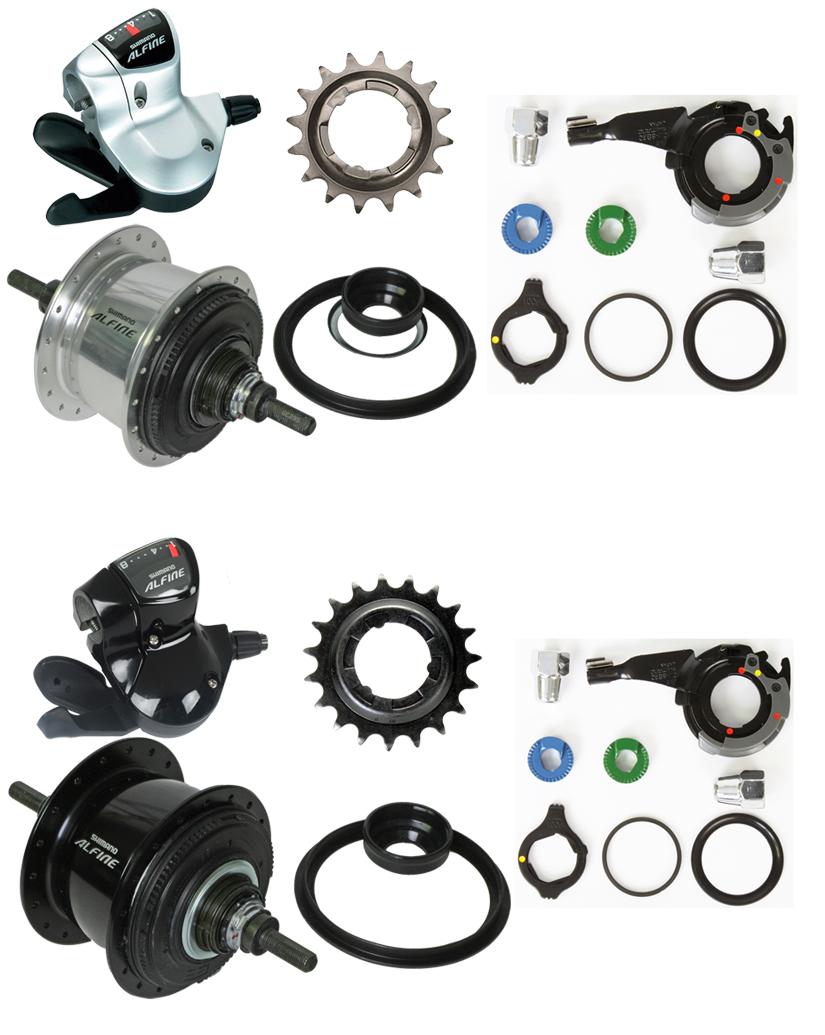 Shimano Alfine 8-speed Hub w/Shifter
The super-deluxe "Alfine" 8-speed, which builds upon the foundation of the Nexus 8.
The Alfine version includes several improvements:

Includes matching shifter w/cable
Disc brake capability, using Shimano's Center-lock rotors.
Click here for Center-lock adaptors for 6 bolt disc rotors.
Triple (SG-S501) roller clutch engagement for smoother, quieter shifting
Increased efficiency

Shifting power modulator for smoother shifts
Complete parts kit included.
Note: Comes with standard Nexus sprocket - not the one with plastic guard.

HUH215 Alfine SG-S501 32 Hole Silver $359.95

HUH217 Alfine SG-S501 36 Hole Silver $359.95

HUH218 Alfine SG-S501 36 Hole Black $359.95
Shimano 8-speed hubs provide the following gear ratios:
| 8 | 1.615:1 |
| --- | --- |
| 7 | 1.419:1 |
| 6 | 1.223:1 |
| 5 | 1:1 |
| 4 | 0.851:1 |
| 3 | 0.748:1 |
| 2 | 0.644:1 |
| 1 | 0.527:1 |




8-Speed Shifters

| Alfine RapidFire Shifters (Black or Silver) $54.95 | Nexus 8 Twist Shifter LD822 $24.95 |
| --- | --- |

These, and the new Jtek model (below), are the ONLY compatible shifters currently available.
Both shifters will work with either hub. Cable and cable anchor assembly included with either model.

Twist Shifters and Drop Handlebars.

The Nexus and Alfine 8 hubs work only with shifters made for them.

The Shimano Nexus and Alfine shifters are designed to fit straight handlebars with a 7/8" (22.2 mm diameter.) This includes basically all upright or "mountain bike" type handlebars, but does not include drop bars as used on most touring bikes.

There are several ways to get around this limitation however:


Jtek 8 Speed Bar-End Shifter
For Nexus & Alfine $89.95

Now available in Black or Silver!

Finally a shifting solution for people who want to use Shimano internal hubs with drop handlebars. This shifters is compatible with Shimano 8-speed Alfine & Nexus hubs. It features a clamp-on mounting design which will fit standard diameter 24mm handle bars.

Super light weight only 64 grams making it the lightest bar-end shifter on the market!
24mm clamp-on design. Easy installation eliminates the need for disassembly to install
High quality CNC precision machined parts, 100% made in Hugo, MN.
8-speed indexing
Cable anchor unit included

Click here for details.

Anti-rotation (non-turn) Washers

Internal gear hubs always require some system for preventing the axle from rotating, as it is used as part of the gear train. Like most other internal gear systems, Shimano uses tab washers that engage the dropout slot to keep the axle from turning.

Because the shift cable linkage ("cassette joint unit" in Shimano-speak) is also keyed to the axle, they make different types of anti-rotation washers to fit different dropout angles. You need to select the correct type of washers for your particular frame.

(Earlier Nexus hubs only used an anti-roatation washer on the right side, but newer models use a pair of them, each a mirror image of the other.)

The washers are color coded as shown in the chart.

Vertical Dropout Issues

The Nexus hubs were not originally intended for use with bikes that have vertical dropouts. The anti-rotation washers provided with the hub have the wrong orientation for use with vertical dropouts, and originally, Shimano said they could not be used with vertical dropouts.

Shimano has reconsidered, however, and now makes available an optional set of anti-rotation washers that work with vertical dropouts. Note that you will need either a pulley-type chain tensioner (or a rear derailer) or an eccentric bottom bracket, because vertical dropouts do not permit moving the axle back and forth to adjust the chain tension.

| | | |
| --- | --- | --- |
| Shallow Dropouts (20 ° or less) | 5R/Yellow, 5L/Brown | $12.95/pair |

HUH030 Cable Anchor Bolt $3.95

Works with Alfine or Nexus (7 or 8 speed) hubs.
Sits in cassette joint.

Sprockets ("Cogs")

All Shimano internal-gear hubs use standard 3-spline sprockets, same as most other internal gear and coaster brake hubs.

In addition to the genuine Shimano Nexus (works with Alfine too) sprockets, that will work with either 1/8" or 3/32" chains, we also can supply most sizes in the Sturmey-Archer version, which is for 1/8" (wide) chains only.

Note that the Nexus and Alfine hubs require a dished sprocket, so sizes smaller than 16 teeth are not suitable for this application.

| | Part # | Description | Width | Price (each) |
| --- | --- | --- | --- | --- |
| | HUH056 | Nexus Sprocket 16T | 3/32" (narrow) | $14.95 |
| | HUH058 | Nexus Sprocket 18T | 3/32" (narrow) | $14.95 |
| | HUH059 | Nexus Sprocket 19T | 3/32" (narrow) | $14.95 |
| | HUH060 | Nexus Sprocket 20T | 3/32" (narrow) | $14.95 |
| | HUH061 | Nexus Sprocket 21T | 3/32" (narrow) | $14.95 |
| | HUH062 | Nexus Sprocket 22T | 3/32" (narrow) | $14.95 |
| | HUH063 | Nexus Sprocket 23T | 3/32" (narrow) | $14.95 |

Sheldon Brown's Internal Gear Calculator for Internal Gear Hubs

Shimano Nexus 7 speed hubs.
(See below for sprockets)
Shimano
SG-7C18
Nexus 7 speed with Coaster Brake
Includes parts kit & 19t sprocket
Twist Shifter included!
36 Hole
130 mm spacing
HUH17 $219.95

Shimano
SG-7R46
Nexus 7 speed with Rollerbrake®
Includes parts kit & 21t sprocket
Twist Shifter included!
36 Hole


Planetary Gears Are Back!

Do you remember how easily it shifted, even when you were stopped for a traffic light?

Do you remember how trouble-free it was?

Do you remember how the chain never fell off?

Do you remember how weather-proof the gear system was?

Do you remember how comfortable it was?

But...

You also probably remember the narrow range of gears, and the big jumps in between.

You probably remember the gap between gears, where your feet would spin freely, with no result.

You probably also remember how heavy your old "all steel" bicycle was,

and how badly the brakes worked in the rain...

The Good Without The Bad!

The Shimano Nexus group combines the best features of your old 3 speed, and eliminates the worst, thanks to modern materials and technology.

Nexus is a family of parts, but the most exciting part is the Nexus Inter 7 seven speed hub.

Shimano Nexus 7-speed hub

The overall range is 244%, in jumps of:

| | | | | | | | | | | | | |
| --- | --- | --- | --- | --- | --- | --- | --- | --- | --- | --- | --- | --- |
| 1st | 17.2% | 2nd | 13.8% | 3rd | 17.3% | 4th | 15.8% | 5th | 16.6% | 6th | 15.7% | 7th |

For comparison, your old 3-speed had a range of 177%, in jumps of:

A typical 1970's "10 speed" had 8 usable gears, a range of 247%:

| | | | | | | | | | | | | | | |
| --- | --- | --- | --- | --- | --- | --- | --- | --- | --- | --- | --- | --- | --- | --- |
| 42/28 | 16.6% | 42/24 | 20.0% | 42/20 | 3.1% | 52/24 | 14.0% | 42/17 | 5.2% | 52/20 | 17.7% | 52/17 | 21.3% | 52/14 |

Other features of the Nexus system:

Nexus 7-speed internal gear systems also incorporate all-weather braking systems. They are available in two forms:

Coaster (back-pedaling) brake

or

Hand operated "Rollerbrake ®" at the rear hub.

Both of these systems provide quite a good rear brake, which works as well in rain and snow as it does on a sunny spring afternoon.

There is also a front roller brake available, but, in my opinion, a conventional cantilever brake is better for the front. We would not particularly recommend the Nexus front brake.

Click here for Shimano Nexus lubricants.

Wheels hand-built by Harris Cyclery

We build custom wheels, with care and attention to detail.

If you would like to make a link or bookmark to this page, the URL is:
http://harriscyclery.com/shimano-nexus.htm