<!- flooble ->

Parts for Older American Bicycles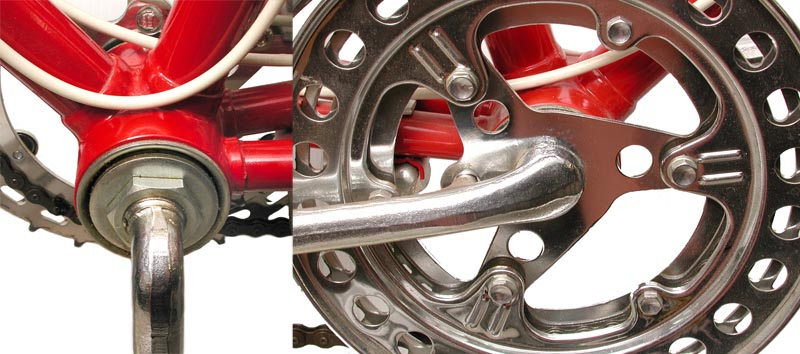 Bottom Brackets | Chainrings | Cranks | Frame tube diameters | Seatposts | Pedals | Headsets | Stems
We love old American bicycles.
We stock repair parts to help keep yours on the road.
We can help with hard-to-find parts and accessories and good advice.
We ship hard-to-find parts, tools and accessories all over the world

From the WW I era to the 1970s, U.S. made bicycles, often of very high quality, were built to rather different standards than those that prevailed in the rest of the world. These bicycles used different standards for bottom brackets and cranks, frame tube diameters, seatposts, pedals, headsets and handlebar stems.

When the 1970's bike boom brought large numbers of European (and later, Asian) bikes to the U.S., the older American dimensional tolerances went into retreat, and were increasingly relegated to department store bicycles, such as Huffy and Murray. People began to associate the American dimensions with these low-end bikes, and to forget that many high-quality machines had been made to these standards. While the European bikes were undeniably lighter and faster, the better American bikes were made with a greater emphasis on durability and ruggedness.

BMX bikes are still largely made to American dimensions, and the BMX segment is one of the key sources for American sized parts. The early ancestors of the mountain bike were based on older American "cruiser" frames, and many early purpose-built mountain bikes used these standards.

One-Piece "Ashtabula" Cranks and Bottom Brackets
The most distinctive part of this type of bike is the one-piece steel crank. The better ones are a solid forging, incorporating the left arm, axle, and right arm in a single piece of steel. These are the strongest cranks available. This is what makes them popular for BMX and children's bikes that are subject to rough usage. They are also the only type of crankset that can be serviced with ordinary household tools...all you need is a large adjustable wrench and a screwdriver.

Interchangeability

There are two major types of one-piece crank sets, differentiated by their threading. The more common size uses 24 threads per inch, but some bikes, particularly older U.S. made Schwinn and Mongoose models, use 28 threads per inch. No part of the bearing assembly is interchangeable between threadings.

24 tpi cranks (with the exception of Tange brand, which use #64 9-ball)
use #66 retainers, with 10 5/16" balls

28 tpi cranks use #64 retainers, with 9 5/16" balls.

The pressed-in cups are also a different size. It is usually a good idea to buy a whole set (cones, cups, retainers) if there is serious wear to any of the parts. These are not expensive.

Note: any frame that will work with one of these sizes will also work with the other. The compatibility issue is with the actual one-piece crank, not the frame.

Tange 24 tpi thread Bottom Bracket Bearing Kits
BB030 $15.95

The 24 tpi thread size fits almost all one-piece cranks except for the original-equipment cranks on older U.S. made Schwinn and Mongoose bikes.

One Piece Cranks (1/2" Pedal Thread)

Part #
Brand
Thread
Length
Price
CK286
Generic
24 tpi
165 mm (6 1/2"-adult size)
$19.95
CK285
Generic
24 tpi
140 mm (5 1/2"-child size)
CK286
Generic
24 tpi
165 mm (6 1/2"-adult size)
Long pin-for triple chainrings
$19.95

OPC Single Chainrings

These work with either 3/32" or 1/8" chain, fit any standard one-piece crank.

44 teeth
CRA501 $12.95
46 teeth
CRA502 $12.95
48 teeth
CRA503 $12.95
52 teeth
CRA504 $12.95
Conversion Kits
If you wish to upgrade a bike built for one-piece cranks to use modern 3-piece "cotterless" cranks, you need a "conversion kit." This consists of a special bottom bracket axle and associated bearing parts that can be pressed into a one-piece-crank type frame.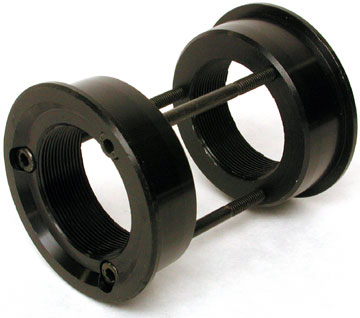 TruVativ American-to-Euro Conversion kit $24.95
These beautifully machined aluminum bushings fit into the shell of a one-piece-crank bottom bracket, and are threaded to accept a standard threaded bottom bracket, normal 68 mm width. 3 long CrMo bolts connect the two bushings to one another for a secure mounting.

This saves weight, improves shifting, and allows the use of modern clipless pedals.

Be the first kid on your block to put a Dura-Ace crankset into your Schwinn Varsity!
Frame dimensions
American-style bikes generally are built with thinner tubing than foreign ones. The compensate for the thinner diameter by using tubing with thicker walls. The frames tend to be plenty sturdy, but a bit on the heavy side. The thick-walled tubing lended itself to welded construction, which was not possible with thin-wall tubing before the development of TIG welding and similar processes.
Seatposts
Since American style frames use smaller tubing diameters, they also need to use skinnier seatposts. The most common sizes are 7/8" (22.2 mm) and 13/16" (20.6 mm)

Wald 13/16" (21.15 m) Seatpost, 15 inches $9.95

Many older U.S. made bikes take this thin size. Unfortunately, there's very little choice in this diameter. This Wald galvanized steel seatpost is plenty long, but if fully extended, a heavier rider may well cause it to bend.

The top end is enlarged to 7/8" to fit standard saddle clamps.

7/8" (22.2 mm) Seatposts

See the Quality Bicycle Products Catalogue

We carry seatposts in these sizes, but haven't yet had time to list them on the Web site.
Pedals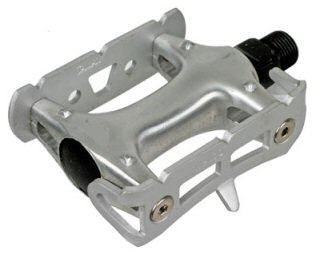 Since one-piece cranks have to be able to fit through the bearing cones for assembly, the cranks cannot be as thick as three-piece cranks. As a result, they have to use a smaller diameter pedal thread, 1/2" instead of 9/16".
Origin8 Track Pedals PD1049 $23.95/pair
A first! 1/2" track pedals!

Be the first kid on your block to put track pedals on your Schwinn Varsity!

These are the same as our 9/16" Origin8 pedals. Silver color. Serviceable/adjustable ball bearings.

You can attach any standard toe clip, and the pedals have slots for toe straps.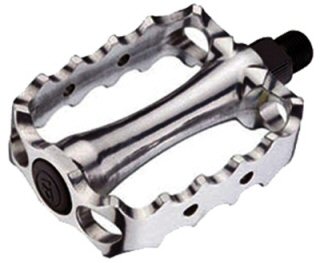 Sunlite/VP Toe-Clippable Unibody Pedals PD1047 $19.95/pair
Solid, alloy unibody construction.

Nicely finished, silver color. Serviceable/adjustable ball bearings.

You can attach any standard toe clip, and the pedals have slots for toe straps.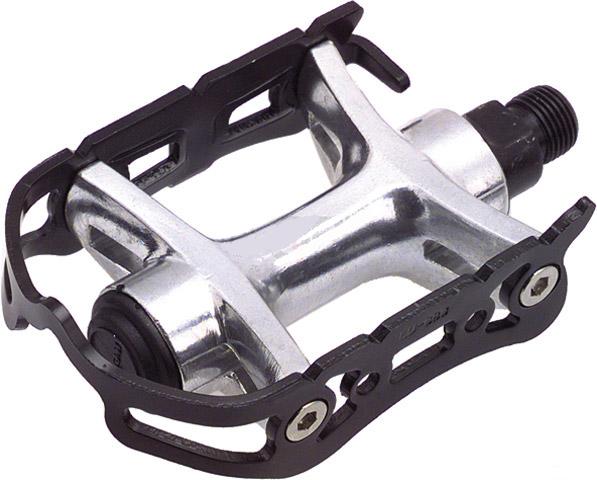 Wellgo Toe-Clippable Quill Pedals PD1036 $24.95/pair
These are really nice 1/2" pedals!

Aluminum cage and body. Serviceable/adjustable ball bearings.

You can attach any standard toe clip, and the pedals have slots for toe straps.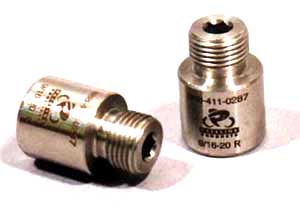 9/16" to 1/2" Pedal Thread Adaptors $44.95
These adaptor bushings have a male 1/2"-20 thread to fit into your one-piece crank, and a standard 9/16"-20 female thread that will let you install standard 9/16" pedals, even modern clipless pedals.

These install with a standard 6 mm Allen wrench.

Headsets
American-style bikes use the same headset threading and diameter as ISO standard (British) headsets, also the same 26.4 mm fork crown race size, but the frames have larger diameter head tubes.

Threaded Headsets (Yellow background indicates interchange problem)
Size
Steerer O.D.
Stem diameter
Steerer I.D.
Crown race
Inside diameter
Frame Cup
Outside Diameter
Threads
Per inch
Notes
BMX/ O.P.C. bikes
.833"
(21.15 mm)
26.4 mm
32.7 mm
24
Older American Bikes
1" ISO Standard (25.4 mm)
.875"
(22.2 mm)
26.4 mm
30.2 mm
24
Modern standard size
1" J.I.S.(25.4 mm)
.875"
(22.2 mm)
27.0 mm
30.0 mm
24
Older or lower-quality bicycles from Asia

Odyssey Dynatron BMX/OPC 1" headset $18.95
Handlebar Stems
American-style bikes have thicker steerer tubes than Euro bikes, so they take thinner stems. The usual diameter is 21.15 mm vs the British 22.2 mm size. The stems listed below are this size. Sorry we don't have more to choose from, but these are getting scarce.

The handlebar clamp diameter of American stems is usually the ISO standard size, 1"/25.4 mm, or, in BMX applications, 7/8"/22.2 mm, so matching bars to stems is not commonly a problem, as long as the stem fits the steerer.

Alloy/Steel Stem SM242 $24.95

These were unavailable for a long time, but we found a new stash!

Ideal upgrade for your Schwinn Varsity or other older bike that needs the 21.15 quill size.

Aluminum upper section to keep the weight down, with strong steel quill.

Forward Exension (reach) 3" (80 mm)
Length: 8" (200 mm)(bottom to center of bar clamp.)
Weight: 440 grams
Clamp fits ISO standard 1" (25.4 mm) handlebar center.

"Swan"-Type High-Rise Stem SM245 $19.95

These are all-steel with a short 65 mm extension. These are heavy, but if you want your handlebars really high, this is what you need.

Forward Exension (reach): 2 1/2" (65 mm)
Length: Quill is 10" (254 mm ) tall.
Weight: 500 grams
Clamp fits ISO standard 1" (25.4 mm) handlebar center.




New! All-Alloy Stem SM244 $24.95

These don't have a retro look, but they have modern features like all aluminum construction and a 2-bolt face plate for easy handlebar installation.

Forward Exension (reach): 80 mm
Length: 200mm
Weight: 320 grams
Clamp fits ISO standard 1" (25.4 mm) handlebar center.

21.15 mm Stem Raisers SM247 $19.95

A stem raiser fits into the steering column in place of your present stem, and secures with a wedge bolt in the normal manner. The upper part of the stem raiser sticks out above the steerer, and is bulged out so that you can insert your original stem. The bottom of the original stem winds up a bit above the top of the headset, so you gain several inches of height.

Note: Steerers are butted at the bottom, so the hole in the steerer is constant-diameter until near the bottom, then the walls taper inward in the butted section. It is vitally important that the stem extender (or stem) is not inserted so far that the wedge is installed where the steerer is narrowing, or it could come loose unpredictably. This is sometimes a problem on smaller frames if you try to insert the stem or a stem riser too far down into the steerer.

If you would like to make a link or bookmark to this page, the URL is:
http://harriscyclery.com/opc