This bike actually has a 630 mm (27 inch) rear wheel and a 622 mm (700C) front wheel at present. The Cannondale had originally been built for 630 wheels, but I had wound up replacing the front with a lighter 622 wheel. Sometime I'll replace the rear wheel as well, maybe with a flip-flop hub...the larger wheel is a bit of a tight squeeze for the rear fender.

The front wheel has only 24 spokes, using a 36 hole Sansin Gyromaster hub and a 24 hole Sun ME14 rim.

It features a Lepper Voyager saddle, Scott AT3 LF handlebars, and a BMX freestyle brake lever with a "stopper" button that acts as a parking brake.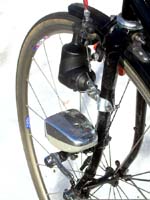 The headlight mount is a bit unusual. I used the "custom lowrider" mount on the touring frame to mount an old Soubitez headlamp, using a cut-down hub quick release skewer. It uses an old broken axle as a sspacer. This makes a very secure headlight mount but permits vertical aiming of the lamp. The headlight has a yellow French bulb just for the hell of it.
The generator is a Swiss "Lightspin" unit, amazingly easy running. I can hardly tell when it is engaged, though it doesn't put out as much light at low speeds as the Shimano Nexus generator hubs I've got on a couple of my other bikes.
When the light setup was on the Cannondale, I had the generator mounted on the seat stay, but when I transferred the parts, I didn't feel like re-wiring the lights, so I just moved it to the fork. That's why there's so much excess wire wrapped around the mount. Someday I'll shorten it...