Shifters from Harris Cyclery

Bar End Shifters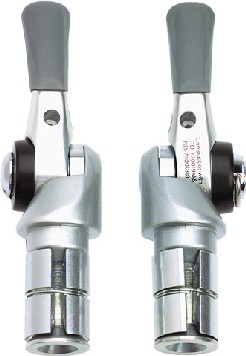 Shimano Ultegra 8 Speed Bar-end Shifters LD801 $109.95
These permit switching between indexed and friction shifting.

Complete with cables, housing and down-tube cable stops for attachment to down-tube braze-ons. If your bike doesn't have the braze-ons, you also need to buy a pair of clamp-on cable stops.

The 7-speed units are no longer available, but the 8-speed shifters actually work quite well with 7-speed cassettes, especially with modern rear derailers.
Shimano Dura-Ace 9 Speed Bar-end Shifters $129.95
9-speed for the not-so rich! These work with Ultegra, 105, RSX and all other recent Shimano derailers except pre-1997 Dura-Ace. Convert an 8-speed bike to 9-speed with these shifters, new 9-speed cassette, and chain.

These are compatible with all Shimano 9-speed equipment.

We also have Dura-Ace 9-speed down-tube shifters in stock.

Brake/shifter Units - Brifters
New!
Shimano ST-A070 7-speed (Double Front) STI brake/shifter set LD7072 $109.95/pr.

Shimano hasn't made 7 speed brifters in years. But they're back!

An excellent upgrade for older bikes. They are compatible with all recent Shimano rear derailers, all 7-speed freewheels/cassettes.

The A070 series is Shimano's new entry level road group. These brifters use the main lever to shift to larger sprockets, but have a small thumb button to shift to smaller sprockets, similar to Campagnolo ERGO.

These sets include shifter cables and housing.

New!
Shimano ST-A073 7-speed (Triple Front) STI brake/shifter set LD7073 $111.95/pr.

Same as above, but with triple front shifter.





Down Tube Shifters

Rivendell 'Silver' Downtube Friction Shifters LD101 $44.95

Similar to Suntour downtube levers with power ratchet.

Aluminum levers.




Origin8 Downtube Shifter Adaptor FS1050 $17.95

Perfect for mounting downtube shifters on bikes with no braze-ons.

Fits frame tubes 28.6 (1-1/8") to 31.8 (1-1/4") (w/ shim).

Machined alloy construction.

Black anodized finish.

Shifters For Straight ("Mountain") Bars
Below-The-Bar Brake/Shifters
Shimano ST-EF65 7 Speed EZ-Fire Levers $48.95

There's a lot of older 21 speed mountain bikes out there with traditional cantilever brakes.
This is a great replacement set.

Shifters: 7 speed index rear / 3 speed indexed front
Brake levers: Cantilever compatible.
Note: These are adjustable levers. They will work with V or Canti brakes.
The factory setting is for V-brakes and will have to be adjusted to work with cantilevers:

Unscrew the red plastic tab that secures the pivoting cable head anchor.
Lower the cable anchor to position "C" and reinsert the red tab.)

Comes with SHIFT cables and housing.
Below-The-Bar Shifters
Shimano Altus SL-M310 7 Speed Shifters

Don't need no steenkin' brake levers?

We were sad to see Shimano discontinue the SL-MC40 7-Spd Rapidfire shifters.
But these newer ones from Shimano will do the trick if you have separate brake levers and only need shifters.

Shifters Sold Separately: 7 speed index rear / 3 speed indexed front. Each comes with cable and housing.

Front/Left 3-Speed Shifter LD8760 $18.95 Rear/Right 7-Speed Shifter LD8762 $18.95

Top Mount Shifters
Model
Speeds
Price
Features
Various Mfrs.
LD505
5 speeds
$12.95
Friction fronts. 5 spd(friction)rear.
Inner cables included, no housing
Shimano Tourney
LD622
6-speeds
$19.95
Friction fronts. 6 spd S.I.S.(indexed) rear.
Inner cables and housing included.
Shimano Tourney
LD722
7-speed
$21.95
Dual S.I.S.
Inner cables included, no housing

SRAM - Grip Shift : Twist Grip Shifters
Model
Speeds
Price
Features
Twist Grip Shifters
7 speeds
$27.95
Twist shifters from SRAM. Friction ratcheting fronts, indexed rear.
Inner cables included, no housing.

URL: http://harriscyclery.com/shifters.html

Copyright © 2005, 2008, 2010, 2011, 2012, 2013 Harris Cyclery