In West Newton Since 1952 - On The Web Since 1995
9/16" Pedals from Harris Cyclery

Note: All pedals shown on this page are standard 9/16" threading.
They fit adult bicycles with three-piece-cranks
9/16" to 1/2" Pedal Thread Adaptors

These adaptor bushings (made by the "Kneesaver" people) have a male 1/2"-20 thread to fit into your one-piece crank, and a standard 9/16"-20 female thread that will let you install standard 9/16" pedals, even modern clipless pedals.

These install with a 15mm pedal wrench.

"Kneesaver" Pedal Spacers

These are similar to the adaptors above, except they have standard 9/16"-20 threading on both ends. Some riders with unusual leg structure benefit from a wider pedal tread ("Q factor") and these spacers provide that. Available in 25mm and 30mm widths.

Clipless Pedals
Shimano PD-A530 SPD 9/16" pedals PD6500

A great double-sided pedal for commuting and touring!
Stable, concave platform on one side and SPD Clipless on the other. Cleats included.

Shimano PD-A520 SPD 9/16" pedals PD6484

These very well made double-sided pedals have better bearings and better overall quality than the knock-offs you'll see elsewhere in this price range. Cleats included.

Shimano PD-M520 SPD 9/16" pedals PD6490

Affordable clipless mountain bike pedals. Cleats included.

Toe-Clippable Pedals

MKS Sylvan 9/16" Touring Pedals
These are longish "rat trap" type pedals. Aluminum body, CrMo spindle. A good choice for riders with wide feet.

Bearings can be serviced/adjusted in the traditional manner.
| Width from arm = 115 mm | Weight = 385 grams/pair. |
| --- | --- |

Rubber Pedals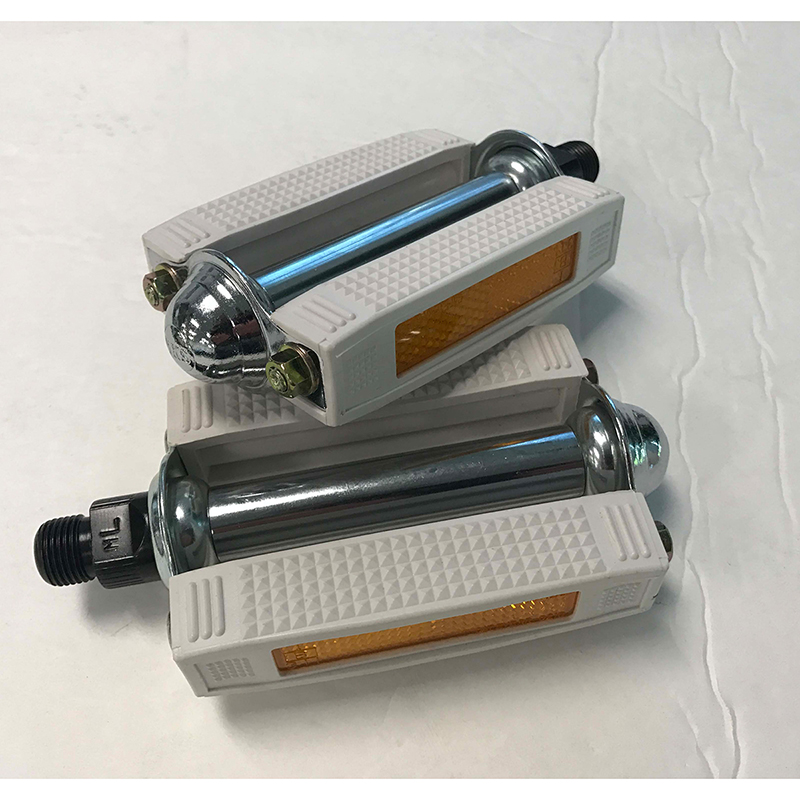 MKS 9/16" Rubber Pedals With Reflectors
A classic traditional rubber block pedal, with serviceable bearings, Japanese quality.

Sturdy and well made, very appropriate replacement for older English 3-speed bikes.
| Width from arm = 112 mm | Width inside = 96 mm | Weight = 720 grams/pair. |
| --- | --- | --- |

Pedals for Folding/Travel Bikes
MKS Lambda EZY Superior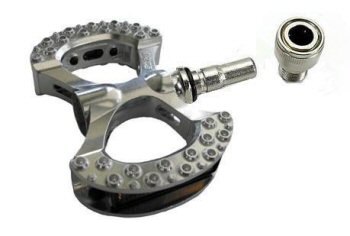 Quick Release Version of the "Grip King" Platform Pedal.

Note: The "EZY Superior" QR system is not compatible with the MKS EZY pedals.

A great upgrade for folder/commuters wearing soft soled shoes.
| Width from heel to toe = 118mm | Weight = 438 grams/pair. |
| --- | --- |


Christophe Leather Toe Straps
Black, Brown or Red. Made in France

MKS "Deep" Steel Toe Clips
These are designed for sneakers, work shoes, etc. Made in Japan

TC315 Large

TC316 X-Large