Search sheldonbrown.com and sheldonbrown.org
SRAM i-Motion 9 Hub




SRAM i-Motion 9 hub, coaster-brake version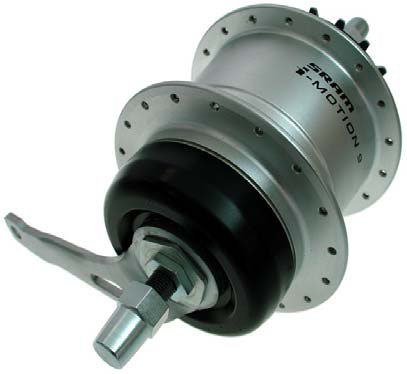 Rebuild this hub?
The SRAM i-Motion 9-speed hub, introduced around 2006, offered a wider range and more even steps than the competing Shimano Nexus 8-speed. The i-Motion 9 was offered in four versions:
disc brake with a standard 6-bolt rotor fitting;
brakeless -- which also could be used with a disc brake, as it is identical to the disc-brake version except for a dustcap;
and, i-Brake (large external drum brake -- this version may also be used without the brake).
Drive ratios are:
| Ratio | 0.542 | 0.621 | 0.727 | 0.853 | 1.000 | 1.172 | 1.375 | 1.611 | 1.844 |
| --- | --- | --- | --- | --- | --- | --- | --- | --- | --- |
| Step | 14.6% | 17.1% | 17.3% | 17.2% | 17.2% | 17.3% | 17.1% | 14.6% | |
The i-Motion 9 was rather large and heavy -- 2.4 kg (5.3 pounds) for the coaster-brake version, 1.9 kg (4.2 pounds) for the others, not counting external brake parts. A mechanic at Harris Cyclery once described this hub as a "cannonball." It has been discontinued as of this writing, but in the spirit of completeness, we cover it, especially as SRAM has provided meager information about it.


Technical documentation
I have documented disassembly of the disc-brake/brakeless version of this hub (PDF file). The hub is rather complicated, but an accomplished mechanic should be able to read the instructions in reverse and reassemble the hub from individual internal parts -- unlike the earlier 12-speed Elan hub, whose axle assembly was only rebuildable with factory tooling.
There are a couple of hitches, though: SRAM doesn't supply individual replacement parts. The gear unit was only ever sold as a single part, and SRAM does not stock replacement parts for its internal-gear hubs in the USA. Also, an internal nut is destroyed in disassembly and is not available for replacement. Aaron's Bicycle Repair in Seattle, Washington, USA has had replacement nuts fabricated and sells them. Aaron is assembling a stock of spare parts and can rebuild these hubs.
The SRAM 2007 technical manual (also available in German) covers removal and replacement from the shell and servicing the coaster brake. Instructions in the manual should be followed in connection with my PDF disassembly instructions. Note SRAM's warning about damaging the right-side outer dust seal during disassembly. I'm not sure whether there is a workaround.
Parts lists for all versions of the hub are in the SRAM 2010 spare parts catalog in English and German, but again, SRAM doesn't stock spare parts in the USA.


Installation and maintenance issues
The SRAM online user's manual provides good information on installation, in English, and versions are available in several other European languages, linked here.
The hub should be removed from the shell, cleaned and relubricated, even when new, because the factory lubrication is inadequate. See the information on lubrication in the main article about internal-gear hubs on this site. The disc-brake and brakeless versions (possibly also the i-Brake version) can be re-oiled through one of the brake mounting holes. These should be closed off with machine screws when not in use: the plastic cover supplied with the brakeless version does not seal well.
Anti-rotation washers are different from those of other SRAM internal-gear hubs. As this is a rotary-shifting hub, different anti-rotation washers are needed depending on the angle of dropout slots, as shown in SRAM's manuals. Shimano Nexus antirotation washers can be made to fit with some filing.
The axle flats are aligned vertically to face the cable attachment forward. Except with vertical dropouts, the washers do not hold the axle flats parallel with the dropout slots, and so an older bicycle with narrow slots for other internal-gear hubs will need to have the slots filed. File the underside only, so as not to misalign the axle. Also, the overlocknut spacing of this hub is 135 mm, and many bicycles need to have the frame respaced -- possible, though, only with steel frames.
The axle should be secured and chain slack adjusted before securing the reaction arm of the coaster brake or i-Brake to the left chainstady -- as with any hub brake that has a reaction arm.
The chainline is 49 mm. The hub uses a non-standard sprocket, supplied only in sizes of 18 through 22 teeth. As it is a flat sprocket, it can be flipped over to double its wear life; also, its life can be greatly prolonged by replacing the chain frequently, or grinding away the hooks which a worn chain wears into sprocket teeth. The hub was available only for 32 and 36-hole spoking.


Sheldon's i-9


If you would like to make a link or bookmark to this page, the URL is:
http://sheldonbrown.com/i-motion-9.html
Last Updated: by John Allen