In West Newton Since 1952 - On The Web Since 1995
26 x 1 3/8 Inch ISO 590 Wheels
from Harris Cyclery
NOTE: All of the wheels on this page come fully assembled. Some pictures show the components only.
The wheels shown below fit most three-speed bikes . Note that there are at least five different "26 inch" sizes , and this ISO 590 mm size is somewhat obscure these days, though it was the standard size for popular three-speed bikes from the 1940s through the 1970s.
These wheels will fit most three-speed bikes, but will not fit "mountain bikes" or "cruisers" built for the smaller ISO 559 mm rim diameter.
We ship hard-to-find parts, tools and accessories all over the world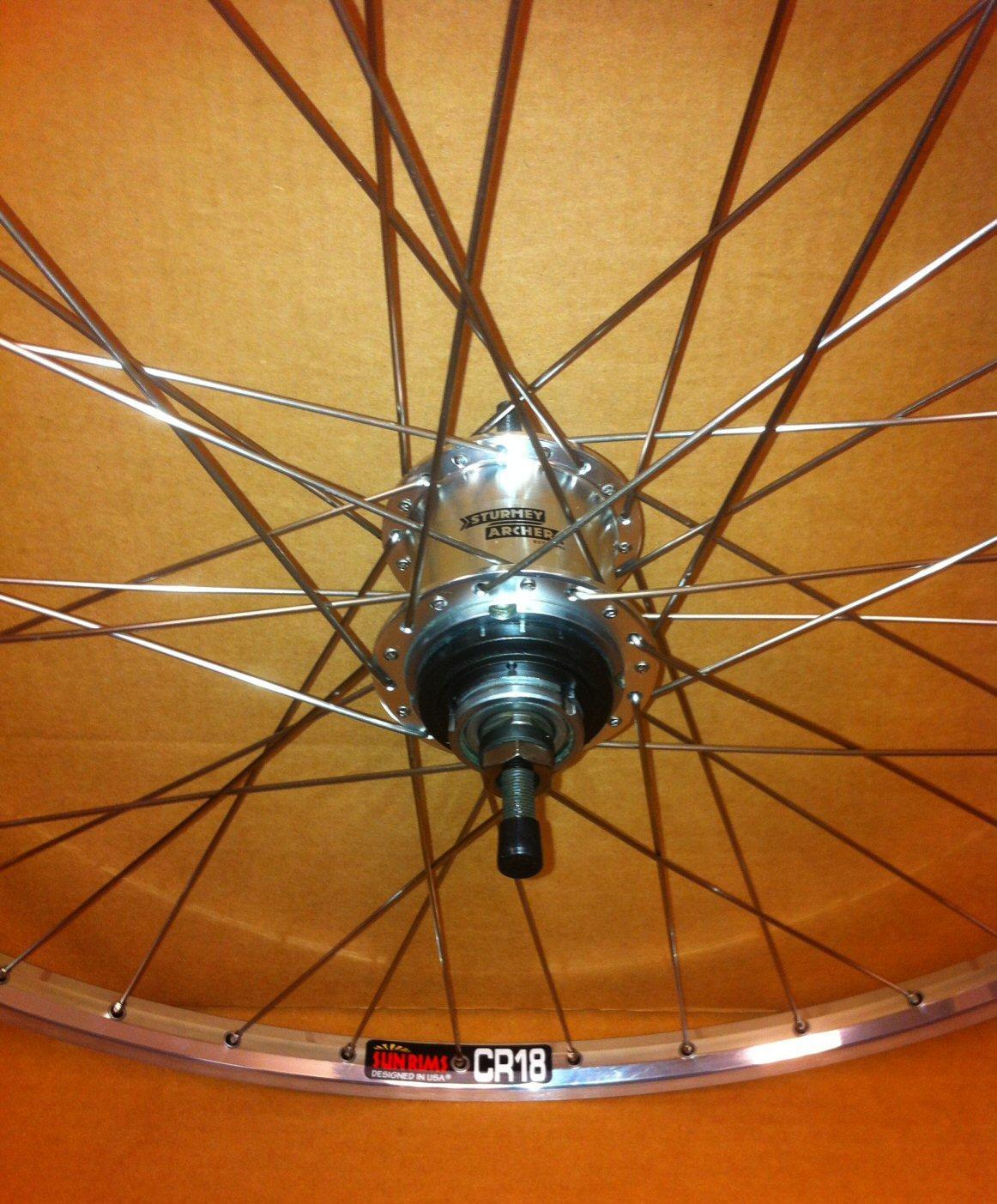 WE369 Rear 26 x 1 3/8" Sturmey-Archer SRF3 3-speed Hub $195.95

Hand-built, hand-trued and stress relieved.

Dependable Sun CR18 polished rim on 36 DT spokes. SRF3 Hub has alloy shell.

Includes "Rapidfire" type shifter, cable and 18 tooth sprocket.

Note: We no longer have the matching front wheel (with polished rim). We can custom build one for $99.95.











WE371 Rear 26 x 1 3/8" Sturmey-Archer SRF3 3-speed Hub $149.95

Machine-built by our supplier.

Dependable Sun CR18 silver rim on 36 DT spokes. SRF3 Hub has alloy shell.

Includes Twist shifter, cable and 18 tooth sprocket.

Picture shows components only. Actual item is a fully assembled wheel.





WE364 Front 26 x 1 3/8" with small-flange hub $54.95

Matching front wheel to WE361 fixed gear rear wheel and WE371 (above). Has 5/16" nutted axle to fit the smaller fork slots on older Raleigh 3-speeds.

Has Sun CR18 rim in satin silver finish to match WE371.

Note: The axle spacing on this wheel is 100mm wide (standard for all modern bikes).
Some older 3-Speeds have 90mm wide forks. This wheel will not fit the 90mm forks!





If you would like to make a link or bookmark to this page, the URL is:
http://harriscyclery.com/wheels/590

Copyright © 2007, 2010, 2011, 2012, 2013 Harris Cyclery