Wheelbuilding and Truing Tools

Spoke Wrenches
Park
Black
$6.95
Fits European-sized nipples (including DT and Wheelsmith.)
Park
Red
$6.95
Fits O.E.M. Asian spokes
Spokey
Pro
$11.95
Fits European-sized nipples (including DT and Wheelsmith.)

My favorite mid-priced spoke wrench,

Like the DT, the steel jaw has the opening at one corner, so the wrench engages 3 of the 4 corners of the nipple. The Pro version has two steel inserts for more nipple length engagement.

Twist Resist spoke gripper

Right Handed model
(hold in left hand)

$84.95

This is a modified 4th hand, designed to grip the spoke shaft near the nipple, preventing wind-up (spoke twist) that can lead to unreliable wheels. This tool is a big help with extra-thin spokes, such as the DT Revolution.

Note: Potential confusion:

The "right hand" model is for wheelbuilders who use their right hand to turn the spoke wrench.

The "right hand" version of the Twist Resist is actually designed to be held in the wheelbuilder's left hand.

If you prefer to use your left hand on the spoke wrench, order the "left hand" model, which is optimized to be used by the wheelbuilder's right hand.

Twist Resist spoke gripper

Left Handed model
(hold in right hand)

$84.95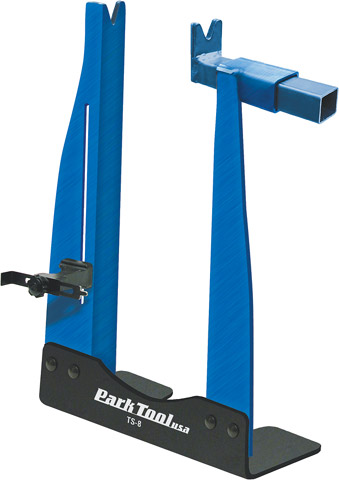 Truing Stands
Park TS-8 Home Truing Stand (Click "Cart" button for price)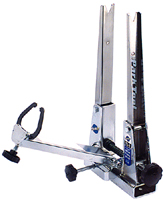 Park TS-2 Professional Truing Stand (Click "Cart" button for price)
The one most bike shops use.

Dishing Gauges
Park WAG-4 Professional Dishing Gauge (Click "Cart" button for price)
Features fine-adjustable pointer. Adjustable blocks let it work even with the tire installed on the wheel.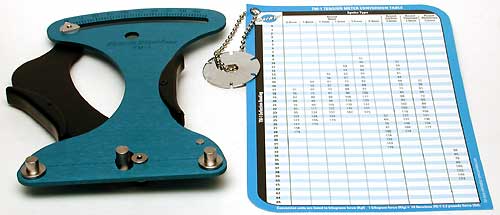 Tensiometers - Spoke Tension Measuring Instruments.
Park TM-1 Tensiometer $79.95



Very nice product, easy to read, including spoke gauge gauge and conversion table for 16 different spoke gauge/material combinations.

These are really nice!

The Bicycle Wheel

by Jobst Brandt

MA0001 Hardback 142 Pages $24.95

This is the definitive text on the wire spoked bicycle wheel. In addition to providing detailed instructions on how to build light, strong, durable and reliable wheels, The Bicycle Wheel offers a detailed theoretical analysis of how a spoked wheel works, refuting the folklore and myth of a century.

Contains very clear diagrams, index.


Copyright © 2005, 2008, 2012, 2013 Harris Cyclery