<!- flooble ->
Harris Cyclery Fixed-Gear Tools
E.A.I. Keirin Multi Tool $179.95
This is a beautifully finished all purpose tool for the track racer, made in Japan for the Keirin racing market.

The hook end is both a lock-ring wrench and a "chainless chain whip" (the sprocket fits into the groove.)

The box end has a sturdy 15 mm box for axle nuts, and a 10 mm box on the end for "banjo bolt" type chain tensioners, if you use them.

At a hefty 320 grams and 220 mm overall length, this is not intended for "on the road" use, but it's a beautiful tool for trackside or for the home mechanic.

Park SS-15 Single Speed Spanner TLP57 $18.95

Designed and built especially for single speed bikes, the SS-15 is a forged spanner with a 15mm socket wrench for axle nuts, 15mm open end wrench for pedals, tire lever, and bottle opener. Just the right size and length (17cm/7") to take along or to wrench in the garage, the SS-15 is destined to be a single speeder's favorite.

Features:


15mm socket wrench for axle nuts
Tire lever
Bottle opener
15mm open end pedal wrench
Action Multi Tool TL2535 $14.95
At the other end of the spectrum is this very useful, inexpensive tool.

Features:


Lockring tool
Chain whip for cog removal
14/15mm notched wrench for pedals & axle nuts
Length: 9"
Wrenches for Nutted Hubs
You could use an adjustable wrench for your singlespeed of fixed-gear hub, but there's a risk of rounding off the corners of your nice track nuts if you don't use a proper 6-point box wrench.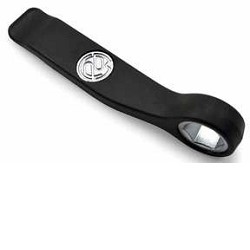 Portland Design Works Coated "3wrencho" $19.95
Another cool item from PDW!

Compact 15mm wrench and tire lever. Made of heat-treated steel. 4.5" long.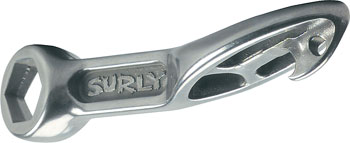 Surly "Jethro Tule" $25.95
A compact investment cast steel wrench also acts as a bottle opener.

Although the handle is short, it is nicely shaped so you can apply plenty of torque without getting blisters. The 6-point 15 mm wrench head is angled to give better clearance for your hand.

For Loose Ball Bottom Brackets and Fixed-gear Sprocket Lockrings
Park
HCW-17
$16.95

A lockring tool specifically for fixed gear!
Two different radius hooks to fit most fixed gear lockrings.
Park
HCW-5
$14.95

1 prong and 3 prong hook spanner.
Click here for Chain Whips



We specialize in fixed-gear conversion of road and mountain bikes...


If you would like to make a link or bookmark to this page, the URL is:
http://harriscyclery.com/tools/fixedgear.html
Copyright © 2005, 2007, 2011, 2012 Harris Cyclery