Prices rise! Sorry, but the weakness of the U.S. Dollar has caused a substantial price increase for Brooks saddles and other U.K.-made products.
In addition, the global increase in the price of titanium has caused an even higher rise on prices of the models with titanium frames.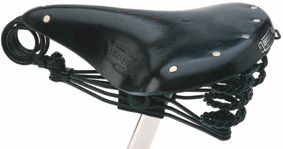 The B-90/3
Sorry, this model was discontinued by Brooks. We bought up all that the distributor had, but they have all been sold.
The B-90/3 was an oversized, super-heavy-duty sprung saddle designed to cope with the poor road conditions in the third world. It featured multi-strand coil springs, and was designed for the heavier rider.

The B-90/3 was a triple-rail saddle

These use a special clamp (included) for old-style "pipe-type" seatposts.

The B-90/3 featured bag loops to permit the use of a traditional English-style touring bag.

Late production had black frames with chrome springs.

Note: This saddle is no longer in production, no longer available.

since February 5, 2000

If you would like to make a link or bookmark to this page, the URL is:
http://harriscyclery.com/saddles/brooks-b90-3.html

Copyright © 2005, 2008 Harris Cyclery