<!- flooble ->

In West Newton Since 1952 - On The Web Since 1995
Zimbale Canvas Bags from Harris Cyclery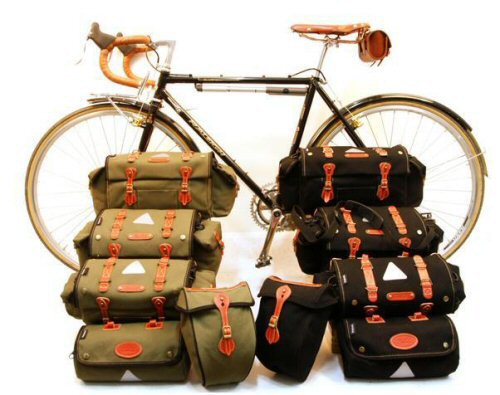 Zimbale makes classic canvas saddle bags for touring or everyday use. The company is based in Korea and was started by three cycling enthusiasts who have years of experience in sewing/bag manufacturing, frame building and furniture making. They are dedicated to providing high-quality bags at reasonable prices.
They are not a mass producer that churns out bags under various names.
We believe the design and workmanship of these bags is second to none.
Zimbale bags feature heavy-duty waterproof cotton canvas and genuine leather.
2 Liter Compact Tool Bag

BG3402 Black $54.00

BG3403 Green $54.00

Waterproof cotton canvas. Treated with paraffin on the outside and PU Breathable Coating on the inside.
Very compact for the cyclist wanting to travel light, but large enough for those essentials in case of a change in weather or puntures.
Hardwood internal support will keep the load stable, and 3 point attachment system with leather straps
Leather reinforcements at wear points
Fits to saddle or handlebars
14 cm diameter x 30 cm wide

2.3 Liter Seatpouch

BG3427 Black $54.00

BG3428 Green $54.00

This bag will fit over your saddle rails or through saddle loops if you have them. It will also fit on the handlebars with the bottom strap then going around the head tube.

Waterproof cotton canvas. Treated with paraffin on the outside and PU Breathable Coating on the inside.
23 cm tall/15 cm wide at top/9 cm wide at bottom/13 cm deep

7 Liter Saddle Bag

BG3407 Black $104.00

BG3408 Green $104.00

This bag is similar to the Carradice Barley, but with the additional features of a longer cover flap which can be extended for bulky loads, and integrated D-rings for optional shoulder strap.

Waterproof cotton canvas. Treated with paraffin on the outside and PU Breathable Coating on the inside.
Easy to open with omega type metal button
Two side pockets
4 metal D-ring strapping points on lid
15 cm x 15cm x 28cm
Green or Black
Hardwood internal support helps maintain the bag's shape and stabilizes load
3 point attachment with leather straps

11 Liter Saddle Bag

BG3410 Black $109.00

BG3411 Green $109.00

This bag is similar to the Carradice Pendle, but with the additional features of a longer cover flap which can be extended for bulky loads, and integrated D-rings for optional shoulder strap, as well as 4 D-ring attachment points on top cover.

Waterproof cotton canvas. Treated with paraffin on the outside and PU Breathable Coating on the inside.
Easy to open with omega type metal button
Two side pockets
4 metal D-ring strapping points on lid
h18 cm x d15 cm x w30 cm
Green or Black
Hardwood internal support helps maintain the bag's shape and stabilizes load
3 point attachment with leather straps

18 Liter Saddle Bag

BG3417 Black $129.00

BG3418 Green $129.00

This bag is similar to the Carradice Nelson Longflap, but with the additional features of integrated D-rings for optional shoulder strap, as well as 4 D-ring attachment points on top cover.

Waterproof cotton canvas. Treated with paraffin on the outside and PU Breathable Coating on the inside.
Easy to open with omega type metal button
Two side pockets
4 metal D-ring strapping points on lid
h21cm x d20 cm x w35 cm
Green or Black
Hardwood internal support helps maintain the bag's shape and stabilizes load
3 point attachment with leather straps
Leather reinforcement at wear points

New! 2 Liter Front Rackbag

BG3436 Black $90.00

BG3437 Green $90.00

Made to fit on a Nitto front rack such as the M-18, or the M-12 or the Mark's Mini.
Nice size for carrying tools, spare tube, jacket, arm/leg warmers.

Highly water resistant cotton canvas. Treated with paraffin on the outside and PU Breathable Coating on the inside.

Very compact for the cyclist wanting to travel light,
but large enough for those essentials in case of a change in weather or punctures.

Natural leather attachment straps with hook and loop fabric sewn-in
Laminated canvas sides for crush resistance
Elastic string closure on top for quick access to pocketbook, bandana, food, sunglasses, map.
Natural leather zipper pulls and carrying handle

Dimensions: Top length 245mm, Bottom length 200mm/ width 130mm/ height 110mm

Sorry. We don't sell the Nitto racks.





If you would like to make a link or bookmark to this page, the URL is:
http://harriscyclery.com/books

Copyright © 2009 Harris Cyclery